Thousands call for international help to end genocide in Sri Lanka – Harrow Times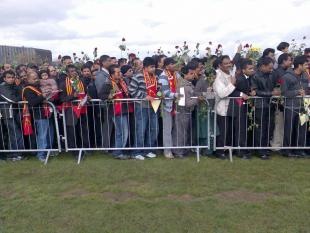 BRITISH MPs, Tamil leaders, and politicians have issue an united plea to the international community to take action to stop the civil war in Sri Lanka.
Around 10,000 people attended a memorial service for Murugathasan Varnakulasingham, a 27-year-old from Harrow who burned himself to death in Geneva last month in protest at the deaths of Tamils in his home country.
On the field at the back of the SKLP Sports and Community Centre in West End Road, Northolt, thousands of Tamils waited patiently to place flowers around Mr Varnakulasingham's coffin, which was draped in the national colours of the Tamils.
Politicians and community leaders lined up to condemn the actions of the Sri Lankan government, who they say are committing a genocide against the Tamil community.
Steve Pound, MP for Ealing North, told the crowds: "You may lose a battle, you may lose a skirmish, but you will not lose the war.
"My country is part of the problem, and we must be part of the solution.
"We recognise genocide is a crime, not just against your people but a crime against all humanity. I promise you we cannot, must not, and will not stand by and let this slaughter continue."
Mr Varnakulasingham burned himself to death outside the United Nations headquarters in Geneva, despite telling his family he was returning to their home in Grange Avenue, Belmont after attending a protest against the military strikes on Tamils ordered by the Sri Lankan government.
His mother has been inconsolable since his death, but his family told the Harrow Times they were "proud" of the sacrifice he made in the name of the Tamil people.
Mr Varnakulasingham's body were carried through the throngs of people who attended the service today, and it was placed on a stage for people to take turns paying their respects.
Navin Shah, assembly member for Brent and Harrow, said: "This sacrifice is not only of an individual, but it is the ultimate sacrifice for his family for the cause of Tamil freedom.
"The world superpowers need to come together to put pressure on Sri Lankan government to stop the genocide."
Virendra Sharma, chairman of the House of Commons All Party Parliamentary Group for Tamils, told the crowd all efforts were being made to stop the deaths of Tamils, and called on the Sri Lankan government to recognise the government envoy to the country.
Shanmuganathan Sivayogam, 48 a Northolt resident, had come to the service to pay his respects to Murugathasan Varnakulasingham.
(For updates you can share with your friends, follow TNN on Facebook, Twitter and Google+)