Toronto youths on 800km walk to Chicago to publicize Tamil plight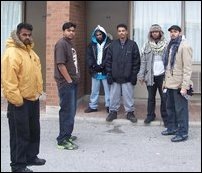 Six students from Canadian universities are on a 60-day 800km walk from United States Consulate in Toronto to Harpo Studio in Millenium Park Chicago to highlight the plight of the more than 250,000 Tamil civilians who are struggling to survive in harsh conditions of food embargo and amidst daily aerial bombardments and artillery attacks by the Sri Lanka armed forces. The youths started their campaign on Wednesday, hoping to draw the attention of Television host, Oprah Winfrey who airs her show from Harpo studio, according to the campaign organizers.
"On the first day we walked from US Consulate at 360 University Avenue to the intersection of East Mall at Dundas. On day the two of the walk, we from Dundas and East Mall to Dundas and Mississague Road in Mississagua City. On day three we walked from Mississagua Road and Dundas and we are currently at Mississagua Road at Erin Mills Parkway. We walked 16 km, 15.1 km 16.8 km and 10 km on the first, second, third and on the fourth day respectively.
"On March 06th we walked through Mississauga city and spent the afternoon with University of Toronto at Mississauga campus students, academic community and the general public discussing with them about the plight of Tamil civilians in Sri Lanka and of the purpose of our walk," the youths said in a note sent to their well-wishers.
"A unified voice is important to make our journey successful and help bring an end to the people's sufferings," and urged the diaspora to write to the Oprah Winfrey show of the students' campaign.
(For updates you can share with your friends, follow TNN on Facebook, Twitter and Google+)