War-weary Sri Lanka dares look to future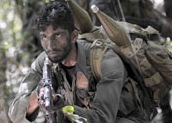 In Vaharai, eastern Sri Lanka, there are checkpoints, army camps and barbed wire everywhere.
Buildings are pockmarked with bullet holes, and skull-and-crossbone markings warn of minefields along the beaches of this fishing community, which not long ago was a stronghold of the ethnic Tamil separatist group, the Liberation Tigers of Tamil Eelam.
"We call the soldiers an occupying army. They are not from this place and they don't speak the language," says a senior Tamil public figure in the nearby city of Batticaloa. 
As the Sri Lankan army fights to retake the last areas controlled by the LTTE, after last week re­opening for the first time in more than two decades the highway running from the south through former rebel-held territory to Jaffna in the north, Sri Lankans are hoping the 25-year civil war might be about to end. 
The Tigers are still fighting in an 87 sq km pocket of territory in the island's north-east, where they are trapped along with what aid agencies estimate are up to 250,000 civilians.
The government said on Sunday that more than 100 Tiger rebels had been killed in the previous two days of fighting.
But with military victory tantalisingly close, the question for most analysts now is whether the ethnic Sinhalese government of Mahinda Rajapaksa, the president, is prepared to go the extra mile to ensure a lasting peace.
Most analysts argue it needs to do this by following up its military success with measures that would bolster the position of minority Tamils in Sri Lankan society, which is dominated by ethnic Sinhalese, comprising 74 per cent of the population, and ease the ethnic tensions that gave rise to LTTE.
"Rajapaksa has a unique opportunity to go down as the great unifier in this country's history," says Paikiasothy Saravanamuttu, executive director of the Centre for Policy Alternatives in Colombo, Sri Lanka's capital.
Tamils complain that they have been treated as second class citizens since politicians representing the Sinhalese Buddhist community began whipping up anti-Tamil sentiment in the 1950s.
Their lives are made a misery by frequent police checks and house searches, even in Colombo. They are under-represented in the civil service and security forces and complain it is hard to find jobs.
"We are being made to feel we don't belong," says one Tamil non-governmental organisation worker in Colombo.
R. Sampathan, a parliamentarian and one of the few Tamils prepared to speak out publicly amid increasing attacks on politicians and journalists in the country, says Tamils want greater autonomy.
"The Tamil people want substantial self-rule in the north-eastern areas in which they are an overwhelming majority," he says.
One proposal under consideration is the implementation of an initiative called the "13th amendment" that would give more powers to the Tamil-dominated east and north provinces. But the government is likely to balk at a key Tamil demand that these two provinces be merged into one, fearing that it would create a Tamil stronghold.
Most analysts believe that, once it recaptures the north, the government is more likely to try instead to pacify the area by installing sympathetic Tamil politicians. That would repeat the government's strategy in the east, where it has relied on co-opting former rebels – with mixed results.
One such recent convert is Sivanesathurai Santhirakanthan, the chief minister of the eastern province. The former LTTE child soldier, better known by his guerrilla name Pillayan, or baby, complains in an interview in his heavily fortified bungalow in Batticaloa that he does not have enough power.
He wants to tax large companies in the area for his ambitious development programme but at present can collect only traffic tolls.
"There is a problem of power-sharing with the centre," Pillayan says in his home, flanked by the bungalow's only ornamentation: some plastic roses and a Sri Lankan flag.
He also worries about rumours that the government is about to appoint another LTTE defector and an old rival, Colonel Karuna Amman, as central minister for the east. That would increase tensions between the two men and their supporters, who have clashed before.
Perhaps the government's best hope of curbing Tamil political aspirations and a possible LTTE comeback lies in satisfying the desperate need of ordinary villagers for development.
(For updates you can share with your friends, follow TNN on Facebook, Twitter and Google+)