Blast hits near mosque in southern Sri Lanka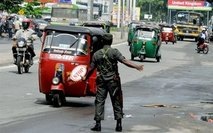 A suspected rebel suicide bomber attacked a gathering of Muslims celebrating a religious holiday outside a mosque in southern Sri Lanka on Tuesday morning, killing 10 people and wounding three government ministers, security officials said.
The bomber appeared to have targeted six ministers as they walked in a procession toward the mosque in the town of Akuressa, near the southern point of this Indian Ocean island nation, said H.M. Fowzie, Sri Lanka's oil minister. Fowzie was at the event celebrating Mawlid, which commemorates the prophet Mohammed's birthday.
"A suicide bomber tried to kill us, but we escaped," Fowzie told The Associated Press.
Fowzie said he was covered with blood and flesh after the bomb went off behind the group of ministers. The road was covered with dead bodies and blood, he said.
The blast came as government forces stood poised to rout the Tamil Tiger rebels from their last stronghold in northeastern Sri Lanka after more than a quarter-century of civil war.
However, the attack showed the rebels retained their ability to launch attacks far from their traditional strongholds in the north and east.
The rebels, listed as a terror group by the United States, EU and India, have repeatedly targeted senior government officials for assassination and have been blamed for hundreds of suicide attacks.
The blast killed 10 people and wounded three of the government ministers, police spokesman Ranjith Gunasekera said. The Defense Ministry said Minister of Posts and Telecommunications Mahinda Wijesekara was among the injured.
Military spokesman Brig. Udaya Nanayakkara said the blast was a suicide bomb, and blamed it on the rebel Liberation Tigers of Tamil Eelam.
"Definitely, it's LTTE," he said.
With most communication to the northern war zone severed, rebel spokesman were not immediately available for comment.
(For updates you can share with your friends, follow TNN on Facebook, Twitter and Google+)