Kamal and Asin in Indo-Japanese film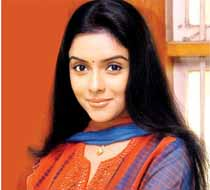 Asin is so busy now that she could well be called Bisin! She has no time to come to Chennai at all, but appeared suddenly in Kerala.
She had come to Kerala to learn Kalari for the Indo-Japanese film '19 Steps.'
On her return from training, she was surrounded by the press and that resulted in a 15 minute interview.
This is what Asin had to say:
"I sign on a film after considering screenplay, characterization, production house and co-stars. I don't come from an actor family. That's why I'm yet to be satisfied with the acting I've done. There's no such competition for me in Tamil, Telugu and Hindi. I am my own competition. I've no hankering for awards. My main concern is to be accepted by viewers. As long as people want to see me on screen, I will continue to act. Awards are just a bonus, that's all.
Because many actresses don't consider acting as a profession, many leave the industry early. It's wrong to think that Bollywood is against the south Indian film industry. If that were so, talented personalities like AR Rehman and Resul Pookutty would not have made such a big name for themselves. You can shine in films only through talent. I speak from personal; experience. I would like very much to get back to the Malayalam film field with its talented personalities. Fee is not a hindrance to it.
(For updates you can share with your friends, follow TNN on Facebook, Twitter and Google+)