Heavy fighting in north Sri Lanka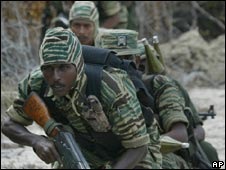 There has been further heavy fighting in the north-east of Sri Lanka, the military and sources close to Tamil Tiger rebels say.
The army says that in the latest clashes it has killed a senior rebel leader, Sabaratnam Selvathurai.
The pro-rebel TamilNet website says more than 50 soldiers were killed in the clashes and army artillery seized.
There is no way of confirming either side's claims. Independent journalists are not allowed in the war zone.
Correspondents say that Sabaratnam Selvathurai is one of the oldest confidantes of the rebel leader, Velupillai Prabhakaran. His death, if confirmed, would be a major blow to their morale.
The military says that Mr Selvathurai – also known as Thamilenthi – was killed in fighting at the weekend around the rebel-held town of Puthukkudiyiruppu.
Sri Lanka's army website said he had been "confirmed killed in the weekend fighting in the north-east of Puthukkudiyirippu where over 150 dead bodies of Tiger terrorists were found after the clashes".
He would be the second senior leader to be killed in government attacks. In 2007, the head of the rebels' political wing, SP Tamilselvan, was killed in an air strike.
Rebel officials have not commented on reports of Mr Selvathurai's death. He was reportedly in charge of their financial unit.
'Under pressure'
Government troops are battling to secure the last rebel stronghold in the north after more than 25 years of civil war.
A senior health official in the war zone has said that more than 60 civilians have been killed inside a government-designated safe area over the last three days. He said that a further 300 were injured.
The official, Dr T Varatharajah said most of the casualties were caused by shelling.
The Sri Lankan military has denied responsibility for the deaths and injuries – a spokesman said the official had been under pressure from the Tamil Tiger rebels to exaggerate civilian casualties.
Meanwhile, the United Nations has accused the Tigers of siphoning off food destined for severely malnourished children. It said a high-energy supplement found on a dead rebel had come from an aid consignment sent two years ago.
The latest fighting follows a suicide bombing in the south of the country on Tuesday which killed at least 14 people and which was blamed on the rebels.
The telecoms minister was among about 35 people injured in the blast at the town of Akuressa, 160km (100 miles) south of the capital, Colombo.
(For updates you can share with your friends, follow TNN on Facebook, Twitter and Google+)