Fein invites Patton Boggs for debate at Press Club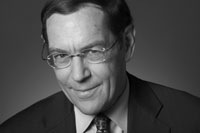 Bruce Fein, former Associate Deputy Attorney General under President Reagan and counsel for a Washington-based Tamil activist group, has invited Patton Boggs LLP, the Washington Law firm retained by the Government of Sri Lanka for advocacy work in the U.S., for a debate at the National Press Club to defend the President of Sri Lanka and his inner circle against credible allegations of genocide under the Genocide Accountability Act (GAA).
"The genocide question is pivotal to Sri Lankan-U.S. relations and to the enforcement of the criminal laws of the United States against its own citizens and resident aliens," Fein said in his letter.
"A genocide debate between us would add richness to the universe of information and analysis available to the United States government and the American people, which is essential to forging enlightened relations between the United States and Sri Lanka. Justice Oliver Wendell Holmes sagely advised that the best test of the truth is the ability to prevail in the marketplace of ideas. I think you would agree that my invitation to debate you honors Justice Holmes' wisdom," Fein said in his invitation.
Fein has prepared a 1,000 page model indictment against Sri Lankan Defense Secretary and U.S. citizen Gotabaya Rajapaksa and Sri Lankan Army Commander and permanent resident Sarath Fonseka, charging the two with 12 counts of genocide and approximately 100 counts of war crimes or torture under United States law.
Copies of the indictment have been shared with the Attorney General, Secretary of State, and Members of Congress.
"I would be eager to provide you with a copy to assist in preparing for the debate once we have agreed on the terms," Fein said in his letter of invitation.
(For updates you can share with your friends, follow TNN on Facebook, Twitter and Google+)