Nadesan urges UN to investigate Colombo's War Crimes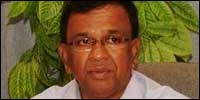 B. Nadesan, the political head of the Liberation Tigers of Tamileelam (LTTE) Sunday said the Tigers had "plenty of evidences" to document that the Sri Lankan government of Mahinda Rajapaksa was "intentionally directing attacks against civilians," committing war crimes and crimes against humanity when asked to comment on the recent statement issued by the Office of the UN High Commissioner for Human Rights (OHCHR). The UN High Commissioner had warned that the actions by the warring parties could amount to war crimes.
"There are thousands of evidences among the civilians, officials and local aid workers. The ICRC has witnessed the Sri Lankan attacks on the civilians," he said. An ICRC worker was recently killed and another wounded in the Sri Lankan artillery fire inside the 'safe zone,' announced by the Sri Lankan government.
The ICRC is also a witness to the plight of the wounded civilians and the hospital which is struggling to operate as the Sri Lankan government is continuing to block medicines, he further said.
"Civilians are forcibly uprooted, separated and jailed inside barbed wire internment camps. Hundreds of civilians have gone missing in SLA controlled territories and in the South," he added.
The civilians, officials and the humanitarian workers would be able to provide detailed accounts if independent international monitors visit the civilians in Mullaiththeevu, the LTTE political head said.
More than 2,800 civilians have been killed and more than 7,000 wounded in the attacks on civilian targets by the Sri Lankan forces since late January, Mr. Nadesan said pointing to the data referred by the OHCHR. But, the real casualty figure of the civilians who perished in the Sri Lankan attacks would be higher than the figures cited by the UN statement, he said.
"The Sri Lankan government is carrying out genocidal massacres by deliberately targeting civilians, their humanitarian supplies and the hospitals," he said adding that shells have been fired by the Sri Lanka Army in the close vicinity of Puthumaaththa'lan hospital.
Air strikes using cluster bombs, artillery and Multi-Barrel Rocket Launcher attacks deploying cluster munitions and fire-bombs were systematically targeting civilians earlier in Chuthanthirapuram and now in Maaththa'lan, Pokka'nai, Valaignarmadam, Mu'l'livaaykkaal, Iraddaivaaykkaal and the adjoining areas where civilians were residing.
Artillery, MBRL attacks and SLAF airstrikes have been used to herd the people from Tharmapuram to Chunthanthirapuram and later to the coast stretch north of Mullaiththevu by the Sri Lankan forces.
"The SLA shelling has also targeted World Food Program's (WFP) storage for humanitarian supplies in Chuthanthirapuram. Now, the SLA attack has again targeted the humanitarian supplies being stored before distribution in Maaththa'lan," Nadesan charged.
"This is why we are continuously urging the international community to send its diplomats to visit the people here in Mullaiththeevu and listen to them," he said.
(For updates you can share with your friends, follow TNN on Facebook, Twitter and Google+)