Gotabaya comments on "media freedom"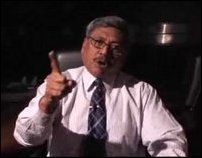 "Mentioning the editor's [Vidyadaran's] name provoked a surprising response," says Amos Roberts, reporter for Australia's Special Broadcasting Service (SBS) program Dateline, in his 25 minute report from Sri Lanka, referring to the spontaneous display of anger by Sri Lanka's Defense Secretary Gotabaya Rajapakse who had ordered Vidyadaran's arrest and accused Vidyadaran of "terrorism" saying, "he is involved in recent air attacks and I am telling you if you try to give coverup for that person you have blood in your hands [...] I am telling you he is a terrorist. He is responsible for co-ordinating air-attacks in Colombo." Gotabaya Rajapakse is a citizen of the United States.
SBS Report: Short clip of Vidyadaran, Gotabaya
SBS Report: Hunting the Tigers
The Dateline report covers the conditions in the detention camps in Vavuniya, the state of journalism with coverage of Lasantha Wickrematunge's death, Vidyadaran interview and his arrest, and the conditions in Uthayan Daily's office in Jaffna.
Sri Lanka Military spokesperson Udaya Nanayakara, tells SBS that in Sri Lanka "[i]t is the soldier, not the reporter, who has given us the freedom of press."
Major General Palita Fernando, the military liason officer in Trincomalee, informs SBS's Roberts that there is "absolutely no problem in visiting Trincomalee," but says it is not possible to interview wounded people who have been evacuated from the war areas and brought to Trincomalee. Asked why, Maj. Gen. Fernando replies: "that's the way we want it. Simple answer."
(For updates you can share with your friends, follow TNN on Facebook, Twitter and Google+)