75,000 Tamils jam Toronto, demand Sri Lanka to stop genocide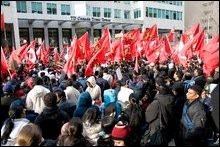 Nearly 75,000 expatriate Tamils crowded downtown Toronto between 1:00 p.m. and 6:00 p.m. Monday to raise the plight of the more than 250,000 Tamil civilians trapped in the war in Vanni, and subjected to continuous artillery attacks and aerial bombardment by Sri Lanka military. Cries of 'genocide' and accusations of human rights abuses were heard throughout the protest, as the protesters held a giant hand-in-hand human chain that stretched along Bloor, Yonge, Front and across to University Avenue. Police officials said this was the largest ever rally held in Toronto.
Toronto Police closed several key streets including York street which was closed both ways from Front to Wellington St West, and Front St. to vehicular traffic in both directions between York and Bay Streets. The busiest area of Toronto was paralyzed by the protest during the rush hour, according to reports.
"We have had peaceful protests in the past, and we maintained great communication with the organizers, and we have not any problems," P.C. Wendy Drummond, according to a report by City News.
"Waving the red and gold flags of the Tamil Tigers alongside Canadian flags, the protesters mixed chants for a separate Tamil homeland with calls for the Canadian government to take action to help stop what they call a genocide in their homeland," described Toronto Sun.
"Literature handed out along the route described the Sri Lankan civil war, which has raged for the past 26 years and resulted in the death of an estimated 70,000 people, as a "humanitarian catastrophe." It requested the international community demand a permanent cease fire and recognize the Tamil State," National Post reported.
(For updates you can share with your friends, follow TNN on Facebook, Twitter and Google+)