Intense fighting rages in S Lanka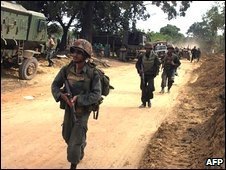 Intense fighting is going on between Sri Lankan troops and Tamil Tiger rebels in north-eastern Sri Lanka.
The military says at least 36 rebels have been killed in ferocious battles in Mullaitivu district on Monday.
Meanwhile, the International Committee of the Red Cross (ICRC) says another ship with food items for civilians has reached the conflict zone.
The Tigers have been driven from most of the territory they held by an army offensive over recent months.
They are now cornered in a small patch of jungle and coastal area in the Mullaitivu district.
It is estimated that between 70,000 and 200,000 civilians are caught up in the conflict zone.
The Tamil Tigers have fought for an independent homeland for Sri Lanka's Tamil minority since 1983.
More than 70,000 people have been killed in the war.
The fighting in north-eastern Sri Lanka has become more intense and ferocious as the army attempts to capture the remaining rebel strongholds in Mullaitivu, the military says.
In renewed clashes, troops have destroyed many rebel positions in the Puthukudiyiruppu region.
The army says so far they have recovered at least 14 bodies of the rebels killed in the latest fighting.
"Security forces also captured a one-km-long Tiger earth bund in the southeast of Puthukudiyiruppu following clashes," military spokesman Brigadier Udaya Nanayakkara told the BBC.
He said some army units were now less than a kilometre from the safe zone set up to protect civilians, which is situated inside the rebel-controlled territory.
The Tamil Tigers have not reacted and there is no independent confirmation of the military's version of events.
The escalation in fighting in north-eastern Sri Lanka comes amid increasing international concern over the condition of tens of thousands of civilians caught up in the conflict zone.
Meanwhile, the ICRS says another ship with 500 metric tonnes of food items has reached the conflict zone in the north-east.
This is the second ship sent to the area in recent weeks.
"The ship arrived off the coast of Putumatalan in the north-east this morning (Tuesday) and has started to offload its supplies. It will take several days to finish the work," ICRC spokeswoman Sophie Romanens said.
(For updates you can share with your friends, follow TNN on Facebook, Twitter and Google+)