Medical supply shortage in Sri Lanka causes deaths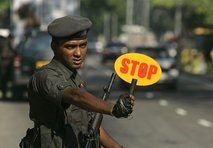 More than 500 patients have died since January in two areas in northern Sri Lanka ravaged by civil war due to a lack of medical supplies, the regions' top health officials said.
In a letter to the Ministry of Health, the two said just 5 percent of the needed drugs and dressings were received in the last quarter of 2008 and the first part of this year.
The letter, seen Tuesday by The Associated Press, was signed by the health officers of Kilinochchi and Mullaitivu. Kilinochchi was the headquarters of the Liberation Tigers of Tamil Eelam until it was overrun by government troops in early January.
The last remaining remnants of the rebels are fighting in Mullaitivu to hold on to a shrinking swath of land — estimated at 13.5 square miles (35 square kilometers) — on the northeast coast.
The letter said more than 500 patients died after arriving at hospitals and that thousands of others could have died before they were brought to hospitals.
"Most of the hospital deaths could have been prevented if basic infrastructure facilities and essential medicines were made available," it said.
The letter said the number of war wounded has increased as the fighting became more intense in recent months.
Human Rights Minister Mahinda Samarasinghe said any letter coming out of the rebel territory is "suspicious and subject to verification," adding he will respond to the letter after consulting senior health officials.
The United Nations says 150,000 to 180,000 civilians, displaced from Kilinochchi and Mullaitivu, are trapped in the war zone. The government says the figure is much lower and accuses the rebels of using the civilians as human shields in a desperate bid to avoid defeat as the military closes in on victory in the 25-year-old civil war.
The International Committee of the Red Cross said Tuesday that conditions for the civilians is "deteriorating by the day," with hundreds of people hiding in trenches to escape fighting.
Red Cross spokesman Simon Schorno said in Geneva that all are in great danger because a coastal area, designated as a "safe zone," where a largely Tamil civilian population is supposed to be shielded from the fighting, is being shelled.
On Tuesday, a further 23 patients out of 108 wounded civilians who were brought to a makeshift hospital in the northeast died, said Kandasamy Tharmakulasingham, a hospital administrative officer.
The United Nations estimates 2,800 civilians have died since late January; the government says that figure is unsubstantiated.
The government has rejected numerous appeals — the latest from the European Union — for an immediate cease-fire, saying any deal would allow the besieged rebels to regroup.
The EU also urged the government and Liberation Tigers of Tamil Eelam to allow urgent humanitarian aid into the safe zone.
(For updates you can share with your friends, follow TNN on Facebook, Twitter and Google+)