Sri Lanka plays hardball with IMF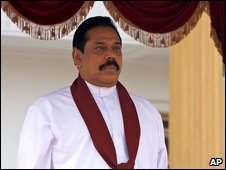 Sri Lanka will not accept any conditions on a loan from the International Monetary Fund (IMF), the island's president has said.
"We will not pawn or sell our motherland to obtain any monetary aid," said Mahinda Rajapaksa.
The Sri Lankan government is in talks with the IMF about a $1.9bn (£1.4bn) loan to help combat the economic downturn and pay for reconstruction.
The IMF usually insists on conditions for any emergency loans.
No forced measures
These involve taking steps such as cutting public spending or raising interest rates.
But Sri Lanka has made it clear it will not be forced into taking any such measures.
"Neither will we bow to any conditions or transform our land to a colony," Mr Rajapaksa is quoted as saying in the local, state-controlled Daily News newspaper.
The country has been hit by slowing tea and textile exports that have depleted the country's foreign currency reserves.
It also needs money to pay for reconstruction work in the north and east of the island after recent fighting with Tamil Tiger rebels.
Sri Lanka's central bank also believes that an IMF loan would encourage other institutions to offer monetary support, as well as boosting international investors' confidence in the island.
(For updates you can share with your friends, follow TNN on Facebook, Twitter and Google+)