Asin in legal wrangle!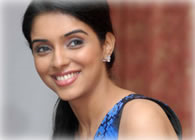 It is not long ago when Asin was in the news for wrong reasons. Her housemaid's mother lodged a complaint alleging Asin of keeping her daughter in possession against her will. However, the issue bit the dust with the girl in question appearing in the police commissioner's office clearing the air about the issue by clarifying that she is employed by Asin as a domestic help and not, as alleged, kept in possession by her.
Now, a complaint of the same nature has been received by the Police Commissioner Jangit, lodged by a Red Hills resident Sudalai Vadivu. According to Sudalai, her son, the 23 year old Muthukumar, joined Asin as her help after he was acquainted with the actress on the sets of Pokkiri.
The complaint further states that Muthukumar went to Mumbai as Asin's help where he met with an accident and was later brought home by his mother.
Sudalai alleges that her son is missing and that Asin and her father reason that he has joined the Mumbai underworld. "I went to Mumbai to meet Joseph, Asin's father, and he promised that he will send my son home in a few days. But after that he is refusing to answer even my calls," Sudalai was quoted as saying.
(For updates you can share with your friends, follow TNN on Facebook, Twitter and Google+)