Civilian misery in northern Sri Lanka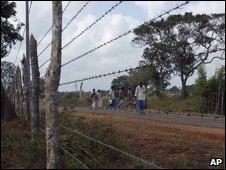 While war rages in north-eastern Sri Lanka, aid agencies say that the outside world is still largely ignorant of the miserable conditions endured by civilians caught up in fighting between the security forces and Tamil Tiger rebels.
Tens of thousands of civilians have been trapped in the conflict zone in the Mullaitivu district, and relief agencies say they are being subjected to continuous shelling, forcing them to hide in bunkers in constant fear of injury or death.
There are also reports of a lack of food, water and medicine in the area.
The Liberation Tigers of Tamil Eelam (LTTE) have been driven from most of the territory they held by an army offensive over recent months and are now cornered in a small patch of jungle, lagoon and coast in Mullaitivu district.
Shrapnel injuries
It is estimated that between 70,000 and 200,000 civilians are caught up in the conflict in the north-east.
The Sri Lankan military says it has now launched a final push to capture remaining Tamil Tiger positions. The fear is that the fighting could spread further, particularly inside the government-designated "safe zone" set up to protect civilians.
Doctors say many sick or injured people have conflict-related wounds – including gunshot or shrapnel injuries.
Only if they are lucky can they reach a proper hospital in government-controlled territory and that usually takes two weeks.
"Only those with shrapnel injuries to legs and arms make it to the hospital in Vavuniya. We do not see people with shrapnel injuries to either the abdomen or chest, we think they do not make it," said Annemarie Loof, the head of Medecins Sans Frontieres (MSF) in Sri Lanka.
MSF has been working with the injured in camps for displaced people in the north. There have been horrendous tales about the plight of civilians inside the conflict zone.
MSF doctors came across a mother who lived with her child inside a bunker for four months – another woman had lost her two children in the fighting, then her husband went missing after losing a leg and a hand in an artillery attack.
Supply shortage
"In addition to the war-related casualties, the lack of food, water and medical supplies left a number of children dead from acute respiratory infection and diarrhoea in the final two weeks of February," says James Elder, the spokesperson for Unicef, the UN children's agency.
But the government denies that there has been a shortage of humanitarian supplies inside rebel-held territory.
"The government continues to send food and medicine to the north-east with the assistance of the International Red Cross. If the LTTE releases those civilians as demanded by the international community, including the UN, the civilian suffering can be brought to an end immediately," said Palitha Kohana, permanent secretary to the Ministry of Foreign Affairs.
It is still not clear how many civilians have been killed and injured in the conflict.
The UN High Commissioner for Human Rights, Navi Pillay, said more than 2,800 civilians may have been killed and more than 7,000 injured over the last two months. Her statement also said certain actions by the two warring sides could amount to war crimes.
'Completely baseless'
The Sri Lankan government strongly disputes these figures.
"We feel that these figures are completely baseless and they are unsubstantiated," the Sri Lankan Minister for Human Rights, Mahinda Samarasinghe, told the BBC.
There have been accusations and counter-accusations over who was responsible for the civilian deaths and injuries.
The army is accused of constantly shelling into the "safe zone" while the UN alleges that the Tamil Tigers are holding civilians as human shields, recruiting children as fighters and shooting those who attempt to flee to government-controlled areas. Both the warring sides deny being responsible for the civilian deaths and injuries.
The rebels also deny allegations that they are holding civilians against their will and that they are firing at them.
But aid agencies warn that time is running out for civilians trapped in the conflict zone.
"Around 200,000 people are sitting on a piece of land that has shrunk to 35 sq km. They are sitting in pieces of tarpaulin. The rainy season has just started. There is not enough food, there is not enough clean drinking water. There is no place for people to use latrines. On top of that, there is continuous fighting all around them. It's not a dignified way of living," said Ms Loof.
The government says that nearly 50,000 civilians have already crossed over to government areas and special camps – mostly in school buildings – have been set up to house them.
Officials say they have earmarked areas to set up more camps for those who are expected to arrive in the coming weeks.
(For updates you can share with your friends, follow TNN on Facebook, Twitter and Google+)