Ambassador Rice supports UN Council briefing on Sri Lanka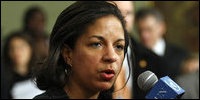 Speaking at the Security Council Stakeout microphone, March 20, 2009 Ambassador Susan E. Rice, U.S. Permanent Representative, said US supports UN Security council briefing on Sri Lanka, and added: "The United States feels strongly about and concerned about Sri Lanka and we support the provision of it to the Council- a full and updated information on the humanitarian situation."
On March 19, UK Ambassador John Sawers told Inner City Press that the "European Union members" of the Council have made a request for a meeting in the Council on the topic of Sri Lanka. The Mexican and Costa Rican Ambassador have indicated they are actively supporting the request. China, described as "vehemently" opposing any Sri Lanka briefing, was said Friday by a Western diplomat to be asking for more time, "delaying the process," Inner City Press reported.
Prosecutor at the International Criminal Court (ICC), Luis Moreno-Ocampo, when asked if he is considering action on Sri Lanka following Ms. Pillai's assertion that Sri Lanka has committed war crimes, replied that Sri Lanka is not a state party [to the ICC's Rome Statute], ICP reported.
Ocampo has been criticized, most recently by the President of the UN General Assembly Miguel d'Escoto Brockmann, for seeking war crimes indictments only in Africa, ICP report added.
Further, an ICC staffer traveling with Ocampo told Inner City Press that following Ms. Pillai's public statement about war crimes in Sri Lanka, the ICC opened a file, or database. But she repeated that Sri Lanka not being a member of the ICC creates jurisdiction problems, and noted that the Tamils have not even, as for example the Palestinians have, made a formal request for jurisdiction.
(For updates you can share with your friends, follow TNN on Facebook, Twitter and Google+)