Fat Rajini in 'Endhiran'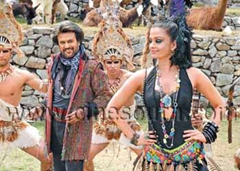 Whenever he wants, Kamal can look like a fat Usilaimani or a thin Omakuchi. He is such a superman at these things that sometimes even Rajini fans cheer him on for his varied get-ups.
Till now, Rajini has only experimented with different hairstyles or costumes, but has never gone this route. His latest 'new' look could be the bald look he sported in 'Sivaji.' Shankar however wanted Rajini to do something very new, and he has done that in 'Endhiran.' After dancing to Raju Sundaram's choreography in Peru, the 'Enbdhiran' team shifted location to Ambur.
That's when Shanbkar has told Rajjini that he should look as if he has pile don atleast 20 kgs. Following that, Rajini has increased his intake of non-veg food.
Coming back to Ambur, it seems Rajini is impressed with the fame of the local biriyani and has it for all his meals every day.
(For updates you can share with your friends, follow TNN on Facebook, Twitter and Google+)