62 civilians killed, SLA, SLAF step up attacks on safety zone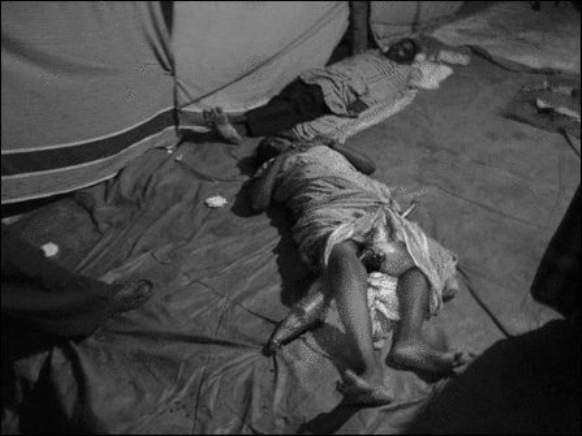 Sri Lanka Army (SLA) stepped up shelling on all areas within the so-called safety zone from 12:30 a.m. Tuesday, killing 62 civilians and causing injuires to many. Artillery and mortar shells hit the safety zone killing 27 civilians during the night. Artillery-fitted cluster munitions exploded between Valaignarmadam and Ampalavanpokka'nai causing heavy casualties. The SLA deployed RPG shells, short range mortars and long distance gunfire on the safety zone during the daytime on Tuesday in addition to 12 air strikes in the settlements surrounding the Pachchaip-pulmoaddai junction within the safety zone. More than 70 bombs were dropped by the SLAF bombers that flew at low altitude killing at least 17 civilians.
The shelling targeted Pokka'nai, Ampalavanpokka'nai, Mu'l'livaaykkaal, Maaththa'lan and Valaignarmadam.
More than 250 wounded civilians have been admitted to the makeshift hospital at Puthumaaththa'lan within the last 3 days, according to medical sources. 21 of the patients died at the hospital.
The ICRC ship to transport patients would not be coming before Thursday, according to the medical staff at the hospital. At least 200 patients were in need of immediate transfer to Trincomalee.
Drugs brought to the hospital in ICRC ship on Sunday would only last for 7 to 10 days, the medical staff said. The hospital authorities have urged more medicines to be sent to the hospital.
SLA gunfire and RPG shells hit the area near the hospital. Shells also exploded in the area. An RPG shell that hit a mother of five children didn't explode, but caused serious injuries to her.
Two children died due to diaarhoea on Monday and another child on Tuesday.
Some vaccines have been brought to the hospital and immunisation programme was going on, according to the officials of the Regional Director of Health Services of the two districts.
(For updates you can share with your friends, follow TNN on Facebook, Twitter and Google+)