Carnage continues, 131 civilians including 32 children killed Wednesday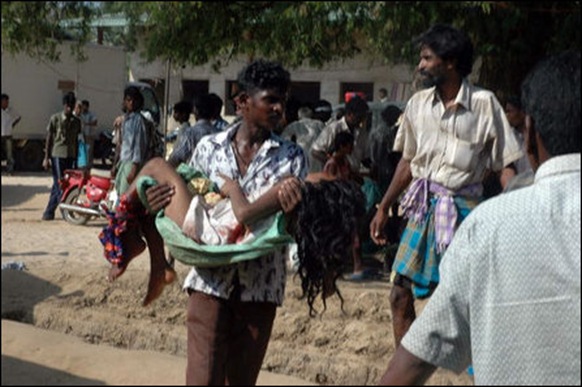 131 civilians, including 32 children were killed in various types of attacks carried out by the Sri Lanka Army (SLA) and the Sri Lanka Air Force (SLAF) inside the safety zone throughout the day on Thursday, according to data collected from various local NGO workers and medical authorities within the civilian pocket besieged by the SLA. 49 of 252 wounded were children. SLA fired RPG shells, deployed long-range gunfire and mortar shells targeting the 4 km stretch from Puthumaaththa'lan to Valaignarmadam. 7 members of a family, including 4 children below the age of 10, were killed in RPG attack by the SLA in Maaththa'lan. 31 travellers were killed in gunfire and mortar attacks on Wednesday. Meanwhile SLAF bombardment claimed the lives of 27 civilians.
Multi Barrel Rocket Fire (MBRL) was also reported inside the safety zone at Pokka'nai around 3:00 p.m. Wednesday. 16 civilians, including 4 children, were killed by a single MBRL rocket that hit an IDP hut in the coastal side of Pokka'nai. 9 of the 27 wounded were children. Many of the dead succumbed to burn injuries caused by MBRL fire. 33 more civilians including 11 children were killed and 72 wounded included 27 children in Pokka'nai area in MBRL and artillery fire. Many tarpaulin shelters and properties were destroyed in MBRL fire. 3 shops were destoryed in Pokka'nai.
The SLA opened fire from the other side of the lagoon towards the 4 km stretch of the road from Maaththa'lan to Valaignarmadam, killing 17 civilians including 9 travellers.
Mortar attack was reported along the same stretch from 4:00 a.m. to 7:00 p.m. At least one mortar shell hit the area every 5 to 10 minutes, causing 23 deaths. Many of the wounded succumbed to their injuries due to the lack of medical transportation as the road was being continuously targeted by the SLA which used RPG rockets, gun and mortar fire to attack the road and the surrounding tarpaulin huts of the IDPs.
TRO and Tamileelam police officials were struggling to save the lives of the wounded.
Meanwhile, SLAF bombers attacked the area within the 'safety zone' at least 6 times. Two SLAF bombers attacked Pachchaip-pulmoaddai and Mu'l'livaaykkaal, dropping around 29 bombs, killing 27 civilians including 6 children, 12 females and 3 elderly on the spot. The attack destroyed 37 tarpaulin shelters.
85 tarpaulin huts with the properties were destroyed in the attacks inside the safety zone by the SLA and the SLAF on Wednesday.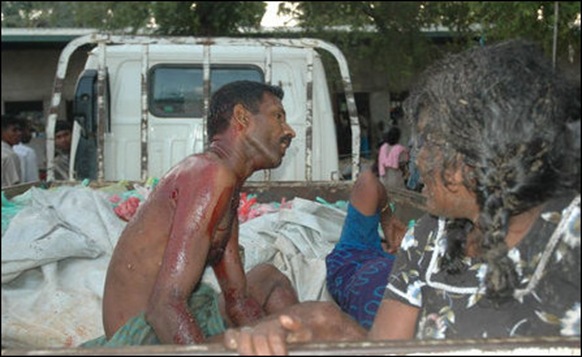 (For updates you can share with your friends, follow TNN on Facebook, Twitter and Google+)