S.Lanka rebels facing 'imminent' defeat: minister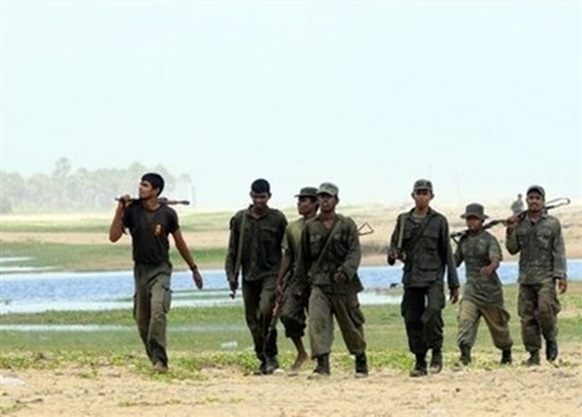 Tamil Tiger rebels have lost more of their territory in northern Sri Lanka and their total defeat is now "imminent," a government minister said Thursday.
Government troops have confined Liberation Tigers of Tamil Eelam (LTTE) fighters to an area of 21 square kilometres (eight square miles), most of which is a government-declared safe zone, the minister said.
"Therefore, it is apparent that the LTTE are now at the imminent brink of defeat," said Keheliya Rambukwella, minister for foreign employment and the government's defence spokesman.
At the height of their power in the mid-1990s, the Tigers controlled more than two-thirds of the island's coastline and one third of the total land mass.
The collapse of the Tigers began two years ago, and accelerated after the government pulled out of a Norwegian-brokered truce in January 2008.
Earlier this year, the military seized the political and military headquarters of the Tigers and vowed to completely defeat the rebels by next month, a victory that would end one of the world's longest-running civil wars.
There was no immediate word from the Tigers, who have been fighting to carve out a separate Tamil state on the ethnic Sinhalese-majority island since 1972. Tens of thousands of people have been killed in the conflict.
Verification of battlefield claims is impossible as independent journalists, most aid workers and international monitors are not allowed into the conflict zone.
Rambukwella said the fighting was now moving into a phase of intense close-quarters combat.
He also accused the rebels of using the "safe zone" — designated by the government so tens of thousands of civilians could keep out of the crossfire — to launch attacks.
"The LTTE is using the civilians as a shield and are carrying out their atrocities," the minister said.
Human rights groups have also accused the LTTE of keeping civilians hostage, but have also said the government has been shelling them.
Earlier this month, United Nations human rights chief Navi Pillay said she feared both sides could be guilty of war crimes and said more than 2,800 civilians had been killed since late January.
Sri Lanka has consistently rejected calls from the United Nations, the United States, the European Union and neighbouring India for a pause in the fighting to allow civilians to get out of the conflict zone.
President Mahinda Rajapakse has insisted that he will not accept anything short of total surrender by the Tigers.
Rambukwella said the government had spent more than 350 billion rupees (3.5 billion dollars) to finance the war against the Tigers in the past two years.
Military officials say the guerrillas are still offering stiff resistance to the army drive, and were also carrying out hit-and-run attacks elsewhere in the country.
(For updates you can share with your friends, follow TNN on Facebook, Twitter and Google+)