Jesse Jackson calls for ceasefire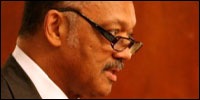 Veteran American civil rights campaigner Reverend Jesse Jackson, who addressed the diaspora Tamil conference in London on Thursday said that "we [the global community] have a moral obligation to stop the killings" in Sri Lanka. The American civil rights activist also raised the need to increase the international awareness of the crisis and asked what his organisation, the Rainbow Push Coalition could do to help. Rev. Jackson stated that the crisis can only be resolved by "thinking it out, and not by shooting it out." He called for a commitment to a ceasefire because "we cannot negotiate to the sound of bullets whizzing over our heads."

"We know that there has to be a cessation of violence to get back to the table to resolve the conflict," Rev Jackson said.
"Whenever there is human misery, whenever there is fear, we have a moral obligation," he said. Saying that he was aware of the crisis in Sri Lanka, Rev Jackson asked "what can we do to help".

Referring to the political accommodation that has been achieved in Northern Ireland, Rev. Jackson spoke about the achievements of the civil rights movement, including marches calling for an end to segregation and to free (Nelson) Mandela.
"I am convinced we have never lost a battle we fought, and never won a battle unless we fought," Rev Jackson said.
"There are those who still think that violence is a solution," he said. "I believe it is not."
Rev. Jackson said he was convinced that non-violence was strength, not weakness, because it required the use of the mind, not just missiles.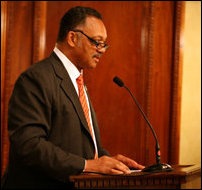 "I think our choices remain non-violence and co-existence," he said. Referring to the increasingly connected world, Rev. Jackson said "if people know our story they will gravitate to the rightness of our cause."
The Tamil family must seek some way of reconciliation over elimination, he said, "some plan to co-exist and not co-annihilate."
Asking what his organisation can do to help, Rev Jackson said one reason for being at the conference was to get the Tamil story told. "Your witnesses must be able to testify," he said, "and not be drowned out by the sound of bullets and the quiver of fear."
He called on Tamils to define the help that they seek, saying that US Secretary of State Clinton had spoken and British Prime Minister Gordon Brown had called for a ceasefire.
"What can the world do to get you back to the table and away from the battle field?" he asked, stressing the urgency about the matter.
When we fight these battles, there are some rules of the game, he said. "We must affirm international law, human rights, self-determination and economic justice." With that fight comes the faith to fight on until the morning cometh, he said. "We must not give up."
In our own country, not long ago, it was almost state-sanctioned terrorism, Rev Jackson said. It is not long ago that we made apartheid in our own country illegal. "We walked behind the caskets of the martyrs, the murdered and the marginalised."
The reason America is where it is today is "because we didn't give up; because we turned to each other, not on each other; because we kept reaching out; because we kept building coalitions; because we kept the faith; because we kept out hope alive." This long process, of each victory leading to another victory and each struggle leading to another struggle, led to Barak Obama becoming the 44th President.
In Sri Lanka also, we need affirmation of respect for international law, human rights, self-determination and economic justice, he said.
"Let us choose negotiation. Let us work it out and not fight it out," he said. "If the cause is right, you will prevail."
"It means co-existence not co-annihilation. It means talking with both the Sri Lankan government and the Tamil people. It means convincing all involved that beyond the pain on war is a peace that's possible."
"We must believe that peace with justice is possible," Rev. Jackson said.
"We are interested in trying to bring visibility and resolution to this crisis," Rev Jackson said, and volunteered that his organisation, Rainbow Coalition, would help in any way to achieve this.
"Hope matters, because if you can see beyond the situation, you can get where you see," Rev Jackson said. "You must conceive it, believe it, achieve it."
"We have a moral obligation to work together to stop the killing, to end the fear, to provide the hope," he said.
Rev. Jesse Jackson concluded his speech by stating that "We must live to see the end of the crisis in Sri Lanka as another victory in our quest to make the world a better place in which to live."
(For updates you can share with your friends, follow TNN on Facebook, Twitter and Google+)