Nadia's love for action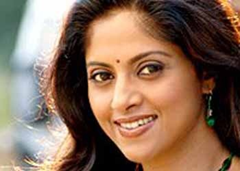 Will Kashmir become less cold? Will Everest lose its height? Nadia's youthful good lokks remain evergreen like that. One should thank director M Raja for bringing Nadia back to films.
Nadia's policy is to give call sheet only for good films. On that basis, she is now acting in 'Pattalam.' She shares her experience of acting in the film.
"It's a real jolly film. I act as a school correspondent. This film is a must see for not only kids but also grownups. It was a new experience to work with children. In the beginning, they were afraid of me that I was a senior actress. So no one spoke much to me. After a few days, we all became such good friends. Like press people, they also say I'm pretty and ask me the secret of my youthful looks.
I have told them it is because I am surrounded by good people and I also do yoga everyday. Yoga is good not only for the body but also for the thought."
We asked her about what type of role she wants to do. "I've done many good characters. But I still have an unfulfilled wish. I want to act in a full length action film. I am waiting for one such story."
(For updates you can share with your friends, follow TNN on Facebook, Twitter and Google+)