Foreign aid groups seek access to war-torn Sri Lanka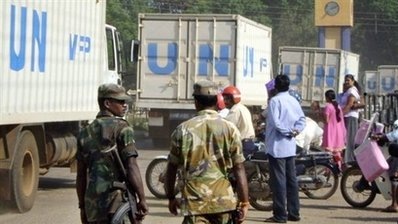 A senior European official said Saturday that aid groups want to help Sri Lanka meet the humanitarian needs of civilians in the country's battle zone and are "not against" the government.
Colombo has drawn international criticism for not allowing safe passage for tens of thousands of non-combatants caught in a narrow strip of coastal jungle in the northeast where its military has cornered the Tamil Tiger rebels.
But Sri Lanka hit back earlier this week against human rights and aid groups, accusing them of supporting the rebels and of trying to prolong the island's civil war.
Speaking here after he was given special government permission to visit Vavuniya in northern Sri Lankan earlier this week, aid official Esko Kentrschynskyj said: "We want to reassure the Sri Lankan government we are not against them."
"We are just asking to be partners," added Kentrschynskyj, head of the European Commission's Humanitarian Aid department (ECHO) unit for Asia and Latin America.
"We see our role as complementary to the government in meeting the humanitarian challenge," which could quickly spiral out of control, he said.
Kentrschynskyj, who visited relief centres in Vavuniya, said refugees from the fighting between government troops and Tamil rebels were streaming into camps at a rate of 1,000 a day.
The International Committee of the Red Cross is currently the only international humanitarian organisation allowed into the conflict zone but other aid groups have been seeking access.
Kentrschynskyj said Colombo was looking after displaced civilians "reasonably well" but there was overcrowding in relief camps and "serious problems of sanitation."
"The nature of the camps looks more military than civilian in the sense that there is razor wire all around," he said.
"There is a lot of military presence and the displaced people are not allowed to go out. There is no freedom of movement."
Colombo, which has launched an all-out offensive to crush the Liberation Tigers of Tamil Eelam (LTTE), says the Tigers are using the civilians as shields, while the rebels say they are protecting them.
(For updates you can share with your friends, follow TNN on Facebook, Twitter and Google+)