Sri Lanka says 39 rebels killed in fighting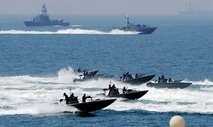 At least 39 Tamil Tiger rebels have been killed in land and sea battles on Sri Lanka's northeast coast as an army offensive moves forward in a bid to end 25 years of civil war, the military said Monday.
A navy officer said 26 rebels were killed in a sea battle Monday off Chalai. Four boats belonging to the Liberation Tigers of Tamil Eelam were sunk in the fighting, said the officer, who could not be identified because he was not authorized to speak to the media.
The officer said one leader of the Sea Tigers — the rebels' naval wing — was killed. One government sailor died and three were wounded he said in the battle that lasted four to five hours.
A separate military statement issued Monday said 13 rebel bodies had been recovered in heavy fighting Sunday night after the military had broken through a fortification built by the Tigers to defend their last strip of land.
The statement said another senior Sea Tiger leader, known as Uththaman, who commanded the ground battle was also killed.
Verification of the reports was not possible because independent journalists are not allowed into the conflict area. The military does not give casualty figures for its troops.
The rebels built a number of earth fortifications and ditches in an attempt to defend their key strongholds in recent months, but a series of government victories has pinned the rebels back into just 8.4 square miles (21 square kilometers) of jungle and beach, which mostly includes a government declared "no-fire" zone for people fleeing the fighting.
The government says its forces are close to ending the Tamil Tigers' separatist campaign, though there has been intense concern for the tens of thousands of civilians trapped in the war zone.
The U.N. says an estimated 150,000 to 190,000 people are trapped inside the territory, resulting in dozens of deaths each day. But the government says the figure on the number of trapped is less than half the U.N.'s estimate.
It accuses the rebels of holding the civilians as human shields. The statement posted Monday on the Ministry of Defense Web site accused the rebels "mounting heavy artillery and mortar attacks from the government declared 'no-fire' Zone."
(For updates you can share with your friends, follow TNN on Facebook, Twitter and Google+)