S.Lanka rejects Tamil truce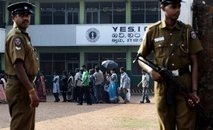 Sri Lanka on Tuesday rejected international calls for a truce with the Tamil Tigers saying that any let up would allow the cornered rebels to prolong their separatist war by another 25 years.
Foreign Secretary Palitha Kohona said that members of the international community had fallen for a deliberate ploy by the Liberation Tigers of Tamil Eelam (LTTE) in calling for a ceasefire.
"It is unfortunate that some in the international community have fallen straight into the well-laid trap of the LTTE and are calling for a ceasefire, a ceasefire which would only help the terrorists to recover and drag this war for another 25 years," Kohona said.
Sri Lanka has resisted repeated calls from the United Nations, the European Union and other foreign governments for a pause in the ongoing military operations.
The foreign ministry quoted Kohona as saying that the Tigers should allow the tens of thousands of civilians in the conflict zone to leave the area.
(For updates you can share with your friends, follow TNN on Facebook, Twitter and Google+)