Thoughts that plague Vijay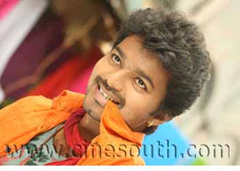 For the past few weeks, Vijay seems to be the hero of the Internet. At a press meet, a video in which he shouts called 'silent' was shown. Following this, Goundamani who ses the film with Vijay tells his opinions that will have one in splits. A news that tells how Vijay can push up his market value will have Vijay fans laugh or cry.
Here are some ideas about how Vijay can boost his sagging market value.
Idea 1: I did not participate in the Tiruchi press meet. Some people have shown my look alike to sabotage me. I did not act in 'Villu' at all. That's also a dupe. An announcement like this will be believed by rasikas.
Idea 2: If any of your forthcoming releases do have a story, please distribute a pamphlet with it to those who come to see your film in theatres.
Idea 3: For those who emerge from watching your film at theatres, you could offer a Contessa car as prize to one who can narrate the story. Don't worry. No one can figure out the story.
Idea 4: At the ticket counter, give a headache pill, BP pill and a packet of water along with the ticket – like the special glass one gets to view a 3D film!
Idea 5: Each section in the theater could have guides to explain what is happening after every scene.
Idea 6: One can have an ambulance ready and waiting outside theatres to give first aid to old and people with weak heart who come out after watching the film. They will return to watch your films with confidence.
Idea 7: Your films have scant comedy at present. Your serious dialogues and punch dialogues make people burst into laughter. So it's better o have good comedy scenes.
Idea 8: Show the scene of your getting a doctor title and viewers will double up with laughter. You could even win the award for best comedian for that scene.
Idea 9: When the title scrolls, some mistakenly read Ilaya Dalapathy as Ilaya Thalaivali. So you could think of a better title. Surely masala puyal Perarasu will give you a good idea.
Idea 10: To forget flops like 'Kuruvi' and 'Villu,' you could join Vadivelu group and do comedy roles with Singamuthu and Muthukalai. Don't go out of the way, just act yourself and that will be a comedy in itself.
Idea 11: Ajith's fans who are releasing comedy tracks of you should be dealt with. You appoint software engineers for a counter video. Just watch out that there are no Ajith fans in that group or they'll fry you.
(For updates you can share with your friends, follow TNN on Facebook, Twitter and Google+)