Erik Solheim discusses Vanni civilians plight with LTTE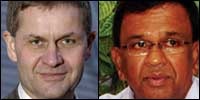 Erik Solheim, the Norwegian minister for international development and the topmost representative of the Norwegian facilitator discussed Wednesday evenng the plight of the civilians in Vanni with B. Nadesan, the head of the political wing of the Liberation Tigers of Tamileelam (LTTE). Revealing the details of the phone conversation that lasted for 30 minutes, S. Puleedevan, the director of LTTE's Peace Secretariat told TamilNet that Mr. Solheim conveyed the recent developments in the International arena regarding the Tamil conflict, especially with regards to the latest briefings at the UN Security Council. Solheim was briefed on the grave humanitarian catastrophe caused by the military aggression of the Sri Lankan armed forces, Puleedevan said.
While the Norwegian minister conveyed the concerns of the International Community, LTTE's political head explained in detail how the Sri Lanka was waging a genocidal war on Tamil civilians, Mr. Puleedevan told TamilNet Thursday morning.
"Our political head categorically told Mr. Solheim that a serious responsibility rests on the International Community to put an immediate stop to the attacks on the Tamil civilians," he added.
"Mr. Nadesan pointed out that around 100 Tamil civilians, including children, pregnant mothers, and elderly are being killed or maimed every day inside a narrow strip of coastal land by the Sri Lankan armed forces. This is a grave violation of all norms of humanitarian law and the conventions of warfare."
LTTE's Political Head reiterated the Tiger position on immediate ceasefire and resumption of negotiations to achieve a lasting solution to the conflict.
"The topmost priority now is an immediate ceasefire to put a stop to the massacre being carried out by the Sri Lankan forces," Nadesan has told Solheim.
"The Tamil people do not wish to be subjugated to the genocidal Sri Lankan state. The International Community should come forward to perceive the aspirations of the Tamil nation in the context of the free will of the Tamil people themselves, and not under the conditions where they are subjected to the choice of life or death by the Sri Lankan state," Mr. Nadesan has told Solheim, according to Puleedevan.
(For updates you can share with your friends, follow TNN on Facebook, Twitter and Google+)