Sri Lanka says flood of people leave war zone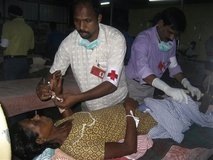 More than 23,000 civilians escaped last month from a war zone in Sri Lanka's north, where the military appears close to crushing the Tamil Tiger separatist rebels, the government said Wednesday.
Tens of thousands of civilians have been trapped by the fighting as the military has rolled up a series of battlefield victories and pushed the rebels into a small sliver of beach and land — measuring just 8.4 square miles (21 square kilometers) — on the northeast coast.
The rebels — who once commanded a de facto state across a large swath of the island's north and east — deny they are on the brink of defeat, but have also appealed for a cease-fire.
The 23,606 who fled in March was down from the nearly 33,000 who escaped in February, but the fighting last month was confined to a smaller area making it harder to flee.
The rebels, the Liberation Tigers of Tamil Eelam, have denied accusations they are holding the civilians as human shields and that they fire on them to stop them from fleeing.
Military spokesman Udaya Nanayakkara told a news conference that the fighting in some cases was just 400 yards (meters) from the edge of a government-declared "no-fire" zone, which takes up most of the war zone.
"Troops are operating close to the safe zone," he told a news conference. Nanayakkara said more than 62,000 people have now fled the fighting.
Defense spokesman Keheliya Rambukwella estimated there were 30,000 to 40,000 civilians still trapped in the area.
A U.N. human rights official will visit Sri Lanka starting Thursday to discuss the welfare of displaced people who fled the war zone and are living in government-run camps.
Walter Kaelin, the representative for Secretary-General Ban Ki-moon on the human rights of internally displaced persons, will meet government and aid officials and visit camps during his five-day visit, according to a U.N. statement.
Rambukwella repeated comments by President Mahinda Rajapaksa rejecting calls for a cease-fire, saying it would give the rebels a chance to rearm and regroup.
"It is not something that is possible," he said.
Still, Rambukwella said the military would suspend its attacks when there were worries about civilian casualties and that the military had done that numerous times in recent months thus delaying the government campaign to end the 25-year civil war.
Nanayakkara said separately that the eldest son of rebel leader Velupillai Prabhakaran was wounded in a recent battle. He said it was not known how seriously Charles Anthony, 24, was hurt.
(For updates you can share with your friends, follow TNN on Facebook, Twitter and Google+)