Deadly clash in eastern Sri Lanka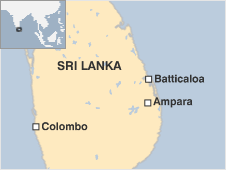 Police commandos have ambushed Tamil Tiger fighters in eastern Sri Lanka, the government says, amid reports of several people dying in the violence.
The defence ministry said the clash occurred in Ampara district near the town of Batticaloa, after officials received an "intelligence tip-off".
The army says it drove the rebels out of the east two years ago, but it admits pockets of resistance remain.
Most of the fighting in recent months has been in the north-east.
Fatalities reported
A BBC correspondent in eastern Sri Lanka says he has seen 11 bodies brought to the local police station, including three women.
The defence ministry said a rebel explosives expert was also among the dead.
It says that in clashes on Thursday in the north-east – where the rebels are confined to a small coastal area – troops killed more than 45 rebels and destroyed a 130mm artillery gun in ground and air attacks.
The army also says that it has captured a bullet-proof limousine used by the rebel leader, Prabhakaran.
There has been no word on the latest fighting from the rebels. The pro-rebel TamilNet website has again accused the military of shelling civilians receiving medical treatment.
Civilians 'at risk'
The UK government has reiterated demands made by the UN and Western aid agencies that civilians trapped by the fighting are able to escape to safety by land.
"Without an immediate humanitarian ceasefire to allow this traumatised and vulnerable population to leave, every day brings us closer to a humanitarian tragedy," said Mike Foster, a senior official with the UK Department for International Development.
"There are credible reports that up to 100 civilians are dying and being injured every day, including in the [government-designated] no-fire zone," he said.
"Aid supplies getting in to the conflict zone are already woefully inadequate and as the fighting continues in a smaller and smaller area, more civilians will inevitably lose their lives."
Meanwhile the government has confirmed that it has summoned the Norwegian envoy to complain about his country's alleged role in arranging a telephone conversation between Tamil Tiger rebels and a UN official.
(For updates you can share with your friends, follow TNN on Facebook, Twitter and Google+)