Recognize our freedom: Vanni civilian leader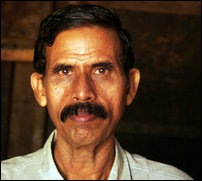 How can a people trust a government that has instructed them to get into a safety zone and then kills, maims and starve them continuously for months now, asks Pararajasingam Kanagalingam, president of the Vanni People Welfare Organization (VPWO), in a recorded affidavit on the civil situation of Vanni sent to TamilNet Wednesday. " Right to live is the most fundamental right guaranteed by the UN. But, even after assurances, people are killed here everyday by government forces. Is it a government that can't guarantee the fundamental right? If the government can't care for us it should leave us free. What is wrong if the Tamils think of self-determination? Even now the people of Vanni are firm in this aspiration for freedom", said Mr. Kanagalingam.
He spoke at length without break, but with coherence. He was insightful and was well informed of the happenings inside, trends outside and the global perspectives of the whole issue, despite being herded into a pocket blockaded of everything, including information. His tone was brimming with anxiety whether he would get another chance to tell the outside world of the plight faced by his people. But, what he said reflected the calibre of the true civilian leadership emerging from the ground realities of Vanni and the determination of a people with which the entire world has to deal with, in resolving the crisis.
On the physical milieu of the so-called safety zone, he said that around 360, 000 people were herded into an uninhabitable region in the hot season of the year to live in tarpaulin tents, without adequate food, potable water, medicine and amidst constant fear of getting killed en masse in SLA shelling.
There is no food virtually. No supplies came in January and February. What was received later was just a token. When they said a shipload was sent, it was just a boat bringing only a handful for each. People, standing in long queues, were depending on the gruel (Kagnchi) provided by the LTTE.
The quota of food stipulated by the UN was never cared for.
When we appealed to our kith and kin in the diaspora and when there was an effort by them to organize direct assistance, then only 500 metric tons of food was sent.
This is enough for a week only to 32.000 families, where as there are 81,000 families staying here. The requirement is 1500 metric tons per week.
Food is not merely the dry rations. There is no sight of vegetables. Onions, dry-chillies tamarind and cooking oil are sold for 5,000 rupees per kilo / litre, where as a coconut is priced 250 rupees. A packet of milk powder is 3,000 rupees.
But, there is no money and no work. People trusted the government and came to the safety zone abandoning all their savings. They will not trust it anymore.
On medical conditions Mr. Kanagalingam said, the three make-shift medical facilities functioning in Puthu-maaththa'lan, Mu'l'li-vaaykkaal and Valaignar-madam are mere first-aid centres, without medicine or facilities for regular treatment.
But, it is an emergency situation. The injured have no facilities. The injured are getting again injured in these hospitals in SLA shelling.
53 patients evacuated to Trincomalee died. They could have been saved, had there been enough facilities here.
Around 25 percent of the people here are suffering from heart ailments and diabetes, manifested by the stress of life. They need regular medicine and no medicines for months to these patients.
If they can't send medicine they should tell why.
In the absence of hygienic facilities, the seashore is completely polluted with human excreta, causing contagious diseases.
Above everything, potable water – where to find it?
There are around 67,000 children among the civilians and about 7,000 of them are nursery school kids. They have no education. Five educational zones of Vanni are not functioning for months now.
Yet, despite all hardships, there is a strong reason why people have chose to stay. They don't trust the government.
The Sri Lankan state cannot be said functioning adhering to the UN Charter.
It is not prepared to assure life and livelihood to its people and it deliberately sabotaged UN assistance to its people.
On the role of the International Community, Kanagalingam said:
War is not the way, the IC always says. But they contribute to this war.
If war can't solve the problem why don't they talk?
We trusted Norway, but it left us on the seashore now.
We were disillusioned. Eric Solheim was not neutral. That is our suspicion.
This is not the problem of our generation. It is at least 60 years old. We are not the only people responsible to it.
Nearly a 100,000 Tamils have been killed already. Isn't it enough to call it genocide?
We are an ancient people of humanity. Why don't the world give us an opportunity, concluded Mr. Kanagalingam.
(For updates you can share with your friends, follow TNN on Facebook, Twitter and Google+)