SLA attacks kill 90 civililans within 3 days, 195 wounded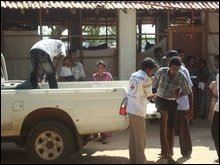 Sri Lanka Army (SLA) continued artillery and mortar shelling during the past 3 days in addition to firing Rocket Propelled Grenade (RPG) shells and Fifty Calibre rounds inside the so-called safety zone, killing 90 civilians and causing injuries to 195, according to medical and humanitarian workers within the 'no-fire zone'. Medical staff at the makeshift hospital Friday said they still lack many medicines and that only 7 types of medical items were brought in ICRC ship on Thursday.
33 civilians were killed and 78 wounded on Wednesday, 31 were reported killed and 70 wounded on Thursday and 26 civilians were killed on Friday when 47 civilians were admitted at the makeshift hospital in Puthumaaththa'lan.
Around 450 patients wounded and sick civilians together with their attendants were transferred in another ship to Pulmoaddai in Trincomalee district from Puthumaaththa'lan.
1000 MT food items, which included milk powder, Thriposha and Corn Soya were also brought by the ICRC.
Meanwhile, medical staff at the hospital said malnutrition was increasingly observed among the children.
People were seen in long queues to obtain humanitarian supplies.
TamilNet: 03.04.09 SLA attacks kill 90 civililans within 3 days, 195 wounded
(For updates you can share with your friends, follow TNN on Facebook, Twitter and Google+)