Asin is very lucky: Nayantara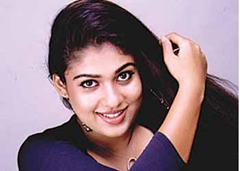 After going through many problems, Nayantara is now calm like a ship at anchor.
When approached for an interview during 'Aadhavan' shooting, she agreed after some consideration.
It's said you have a short temper?
"It's true I have a short temper. But I'm never angry with anyone without reason.
Anyone who knows me well, will never misunderstand me. Only those who don't know me, mistake me. Even if I speak in anger, I forget about it the next minute. I don't have one thing in my heart and say something else."
Do actresses have importance in today's films?
"It has become rare for heroines to be given importance. If heroines are cast in serious roles, distributors feel the film will end up like a TV serial, so no one comes forward to write stories that are heroine centric.
In the last few months, only the heroine of 'Ghajini' had the opportunity to show her acting skills. I must say that Asin is very lucky. Trisha, Shriya and I have not received such offers. The directors have to create heroine characters of importance. It is also important that heroes should not have ego."
(For updates you can share with your friends, follow TNN on Facebook, Twitter and Google+)