London demo slams Sri Lanka rights abuses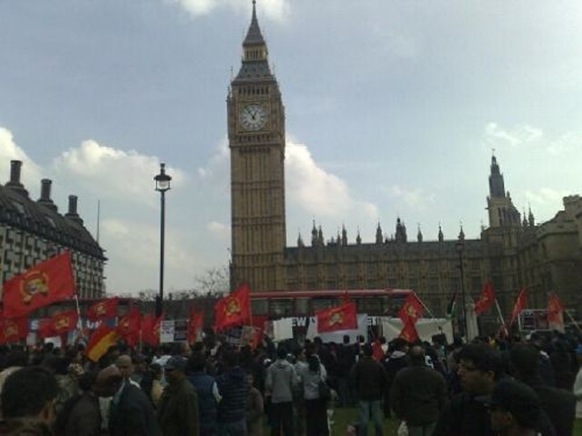 About 3,000 protesters staged a peaceful rally outside the parliament on Monday against alleged human rights abuses in Sri Lanka, police said.
Carrying banners reading "Stop Sri Lanka's Genocide of Tamils" and "Rwandan Genocide Repeats in Sri Lanka", men, women and children waved flags of the Tamil Tiger rebels who face a threatened final assault by government forces.
A police spokesman estimated the turnout at about 3,000, triple an earlier figure of 1,000, adding that it was peaceful and there had been no arrests.
He said the demonstrators had not sought permission for the protest, as is normally required, rendering it effectively illegal.
Lawmaker Siobhain McDonagh, earlier called on the crowd to disperse, saying the government's special envoy to Sri Lanka, Des Browne, would meet with 50 of their representatives to listen to their concerns.
President Mahinda Rajapakse on Sunday said the military was close to wiping out the Liberation Tigers of Tamil Eelam after decades of bitter fighting for an independent homeland.
Rajapakse has rejected international calls for a truce which the government has argued would only let the rebels regroup.
(For updates you can share with your friends, follow TNN on Facebook, Twitter and Google+)