Police seize flags as Tamil protests threaten to escalate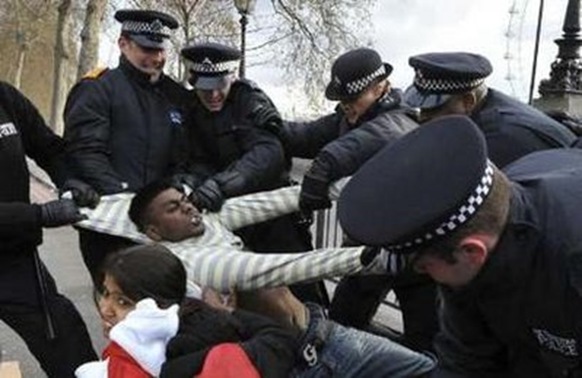 A protest outside the Houses of Parliament threatened to spin out of control tonight as police seized Tamil Tiger flags and arrested a number of people demanding an end to alleged human rights abuses in Sri Lanka.
About 3,000 demonstrators were crowded into Parliament Square for a second night of protest, with organisers predicting that the number would swell to 10,000 as more joined after work. Many were pledging to spend another night on the streets of Westminster, raising the prospect of clashes with police who hope to disperse them later this evening.
Chief Inspector Chris Allmey, one of about 300 officers at the scene, said that the police were treating the protest as illegal and insisted that it would not be allowed to continue into the evening. Those who remained would have to be dispersed, he said.
A Scotland Yard spokesman warned that police may have to make "a huge number of arrests" to clear the area. Officers failed in an attempt to end the protests earlier today, which led to minor scuffles and six arrests.
An unconfirmed number of flags bearing symbols of the Tamil Tigers (LTTE) were also seized by officers who warned protesters that they were breaking anti-terror laws by carrying images representing a proscribed organisation.
The protesters demanded a ceasefire in Sri Lanka, where government troops are on the verge of defeating Tamil Tiger rebels who are fighting for an independent state on the island. The United Nations estimates that more than 100,000 civilians have become trapped as the army attempts to seize the LTTE's remaining strongholds.
A UN human rights official repeated international calls for a ceasefire today.
On the square of grass opposite the Palaces of Westminster, Shanthini Siva, 46, from Middlesex, said: "I will stay tonight. There is a heavy war in Sri Lanka. So many people died and there is no media attention, no medical facilities, no food, no humanitarian aid and they are killing innocent people – pregnant women and small children. It has been happening for more than three months.
"I moved here 26 years ago and I still have family there. For three months I have heard nothing from them. We want a ceasefire and a permanent accord, we want to live peacefully, the same as the majority of people."
Sara Ramanan, 27, studying for an MSc in Southampton, said that she had been protesting since yesterday afternoon and would continue "until we get some response from Gordon Brown. We haven't had anything, so this is what we can do at the moment: asking the Government to call for a permanent ceasefire."
Protesters were forced into the centre of Parliament Square by lunchtime today after almost 24 hours of major disruption in Central London.
About 3,000 had blocked Westminster Bridge, Victoria Embankment and the roads around Parliament Square from around 3pm yesterday. Westminster Underground Station was also forced to close. Four lifeboats were scrambled after threats that protesters would jump into the Thames en masse – two demonstrators have been rescued, unharmed, from the river.
Tamils chanted "shame on British police" and "we want a ceasefire", while some lay down on the ground, after brief skirmishes between demonstrators and officers. The protesters carried banners reading "Stop Sri Lanka's Genocide of Tamils" and "Rwandan Genocide Repeats in Sri Lanka".
As the protesters were clashing with police, David Miliband said that the Government was "very concerned" about civilians caught up in the fighting in Sri Lanka.
The Foreign Secretary said: "Recent reports suggesting that the Sri Lankan military have now captured all the territory outside the so-called 'no-fire zone' and that fighting is now going on inside the zone, where the civilian population is concentrated, are deeply worrying."
"The need for a humanitarian ceasefire is now even more urgent."
President Mahinda Rajapakse of Sri Lanka said that the military was close to wiping out the LTTE after decades of bitter fighting for an independent homeland. He rejected international calls for a truce, which the government has argued would allow the rebels to regroup.
Metropolitan Police were this evening hoping that a speech by Siobhan McDonagh, a Labour backbencher who has campaigned for a ceasefire alongside Tamil groups, would help to end the protests.
Ms McDonagh is expected to address the crowd tonight, warning that the good publicity generated may turn sour unless the demonstration is brought to an end.
If protestors do not heed her advice, police will start circulating formal warnings that the protest is unauthorised.
Ms McDonagh said that the Government was taking action, with Des Browne, the UK Special Envoy for Sri Lanka, due to meet 150 protesters tomorrow.
She added: "What a lot of people are saying is they're not going until there's a ceasefire.That's not within the gift of the British Government. I believe the Government has done a lot, but needs to do more. It would be a cruel lie to say to people that that is within their power.
(For updates you can share with your friends, follow TNN on Facebook, Twitter and Google+)