Sri Lankan protest heads into third day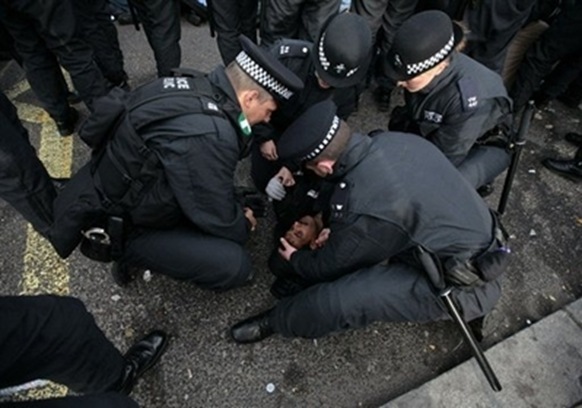 A protest outside Parliament by Tamils urging London to intervene in Sri Lanka's conflict stretched into a third day, with hundreds refusing to move despite police warnings.
Seven people were arrested on Tuesday after repeated scuffles with police, who warned they could be forced to make a "huge number of arrests" if protesters refused to leave the site they have occupied since Monday afternoon.
But 300-400 protesters remained at the site in the early hours of Wednesday, police said, from a peak of about 3,000.
The overwhelmingly peaceful protestors are calling for an immediate ceasefire in Sri Lanka and want former colonial ruler Britain to intervene with Colombo to protect the Tamil people, who they say are being targeted.
Many said they would not disperse until they receive a firm commitment of action from the government. "We will stay here as long as the killing goes on," protester Guhan Gukendharan told AFP.
Police have warned that they could be forced to make "a huge number of arrests" unless the demonstration is dispersed.
It is illegal under a law which prohibits demonstrations close to Parliament without prior police permission.
Scuffles flared Tuesday as police confiscated flags which they said represented the Liberation Tigers of Tamil Eelam (LTTE), whom Sri Lankan forces are fighting and who are a banned organisation in Britain.
Protestors insisted the red flags they were flying were Tamil national flags, not connected to the Tigers, and accused the police of brutality.
London Ambulance Service said it had treated 10 people at the scene for minor injuries, of which five were taken to hospital.
"The police have been terrible today," said Yalini Thayaparan, 34, who was at the protest Tuesday with her 15-year-old daughter and other family members. "It's really, really hard, they push all the ladies, they hit lots of boys."
The noisy demonstration — filled with drums and chanting — began Monday afternoon. Police deployed early Tuesday to clear away the protestors blocking Westminster Bridge and surrounding streets.
Passions were running high with many protestors saying they had family members who were killed or wounded in recent violence in Sri Lanka, although the demonstrators insisted their action would remain peaceful.
"It's because of the bombing and killing in Sri Lanka. They have started to use chemical bombs in Sri Lanka," said Nathan Kumar, chairman of the British Tamil Forum.
Four lifeboats were scrambled after two protestors jumped into the nearby River Thames. They were taken to hospital.
Metropolitan Police Commander Jerry Savill said his officers were showing restraint. "We've been remarkably tolerant really," he told the BBC, explaining that police had to be careful because women and children were also among the demonstrators.
The demonstration was staged as Tamil Tiger rebels face a final assault by government forces in Sri Lanka, who have killed at least 525 rebels in several days of fierce fighting in the northeast of the island.
Sri Lankans also held protests in Norway, where dozens of Tamils blocked the entrance to the premier's office in Oslo, calling on the nation to act in its role as mediator in the conflict.
(For updates you can share with your friends, follow TNN on Facebook, Twitter and Google+)