Tamil protesters on hunger strike at the Houses of Parliament – Times Online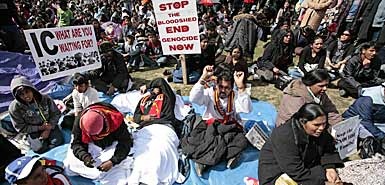 Two Tamils were on hunger strike today in protest at alleged human rights abuses in Sri Lanka as a rally outside the Houses of Parliament continued through its third day.
As many as 3,000 Tamils have caused chaos in Central London this week by blocking Westminster Bridge and holding a vigil outside Parliament, demanding that the British Government intervenes in the conflict on the Indian Ocean island.
Two demonstrators have thrown themselves into the River Thames and seven arrests were made as police officers have sporadically attempted to disperse the demonstrators.
Sivatharsan Sivakumaravel, 21, a British citizen, and Parameswarn Subramaniyan, 28, said today that they had not consumed any food or water for 30 hours. They told The Times they would remain on hunger strike until their deaths, unless their calls for ceasefire and humanitarian aid were heeded.
Mr Subramaniyan said that his relatives had been killed in the most recent wave of violence in Sri Lanka: "Two days ago the Sri Lankan government was bombing with poison gas, chemical gas. In that bomb, nearly my whole family – five members of my family – is dead."
Mr Sivakumaravel, whose grandmother and cousins are in Sri Lanka, had not been able to make any contact with them. "I don't know what's happened to them," he said. "Suddenly the Sri Lankan government is killing all Tamil people in what they call the 'safe zone'. They started using banned bombs and chemical weapons.
"There is a genocide happening there, Britain knows it well. This is not against terrorism; it is a war against Tamil people. They are killing all Tamil people."
The Tamil demonstrators were demanding an immediate ceasefire in Sri Lanka where the government has forced Tamil Tiger rebels into one final stronghold on the island. The United Nations said that around 100,000 civilians were trapped in the warzone and at risk of harm.
Protesters in Westminster claimed the army was attempting a genocide against Tamils in Sri Lanka but the Sri Lankan government insists that it can no longer respect the partial ceasefire if it is to extinguish the threat of a terrorist organisation.
David Miliband, the Foreign Secretary, said: "Recent reports suggesting that the Sri Lankan military have now captured all the territory outside the so-called 'no-fire zone' and that fighting is now going on inside the zone, where the civilian population is concentrated, are deeply worrying."
Around 400 people stayed out on Parliament Square overnight in a demonstration that shrinks and swells as Tamils return after work or come and go when they can.
The police maintain that the protests are illegal but officers said they were reluctant to physically break up the crowd, which includes many women and young children and has been peaceful throughout the three days of protest.
Suren Surendiran, of the British Tamils Forum, said he had no idea when the protest would come to an end. "This has happened so spontaneously that there's no one to go and ask how long this will go on for, he said. "So many people have already lost close family members they are anxious so they are saying to their government, please put pressure on the Sri Lankan government."
The police said two protesters were arrested under the Terrorism Act on suspicion of carrying articles supporting proscribed literature. Scotland Yard said they had seized numerous Tamil Tiger flags.
(For updates you can share with your friends, follow TNN on Facebook, Twitter and Google+)