Ramsey Clark to address New York protest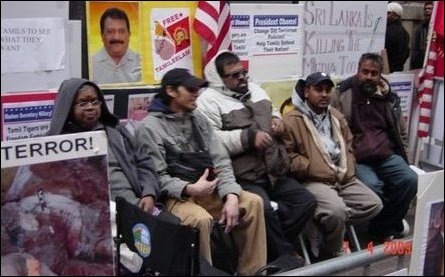 Ramsey Clark, former US Attorney General in President Lyndon B Johnson administration, is to attend a protest fast by five American Tamils in front of the U.S. Mission to the United Nations in New York Friday to conclude the protest campaign. The protest is organized as part of a world-wide diaspora campaign to highlight the horrific killings of Tamil civilians by the Sri Lanka military in a near genocidal campaign in Mullaiththeevu district, organizers of the protest said.
The hunger strike began Tuesday and will conclude Friday at 4:30 p.m. with Mr Clark in attendance. He is expected to address the well-wishers of the hunger-strike participants.
The protest appealed to the U.S. Government to urgently call for a ceasefire in Sri Lanka to provide relief to the more than 200,000 civilians caught up in the war.
The organizers especially urged United States Ambassador to the U.N. to take pro-active steps for immediate U.N involvement to stop the carnage in Sri Lanka.
(For updates you can share with your friends, follow TNN on Facebook, Twitter and Google+)