US urges political settlement in Sri Lanka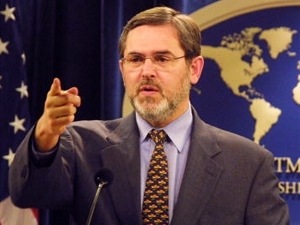 The United States on Wednesday urged Sri Lanka's government to reach a political settlement with the Tamil minority and urged Tamil rebels to free civilians trapped in the bloody conflict.
Richard Boucher, the assistant secretary of state for South Asia, met at the State Department with representatives of the Tamil diaspora, which has been holding worldwide rallies urging intervention in the bloody conflict.
Boucher and Robert Blake, the US ambassador to Sri Lanka who joined by videoconference, "emphasized the urgent need for the Government of Sri Lanka to engage Tamils, including diaspora communities around the world, to find a political end of the conflict," a State Department statement said.
They also voiced concern over the status of an estimated 100,000 Tamil civilians trapped in a government-designated "safe" zone, into which Tamil Tiger rebels have been fleeing as fighting intensifies.
"They called on the Liberation Tigers of Tamil Eelam to release the civilians. They reiterated that both the Tamil Tigers and the Government of Sri Lanka should stop firing into and from the no fire zone," the statement said.
Sri Lanka's government says it is in the final stages of defeating the Tigers, who launched a campaign in 1972 to create a separate Tamil homeland on the Indian Ocean island.
UN human rights chief Navi Pillay said last month that more than 2,800 people had been killed in Sri Lanka's conflict since late January.
The Tamil diaspora, much of which left Sri Lanka during some of the conflict's bloodiest times in the 1980s, has been actively lobbying in Western capitals.
(For updates you can share with your friends, follow TNN on Facebook, Twitter and Google+)