Tamil hunger strikers' condition deteriorates in London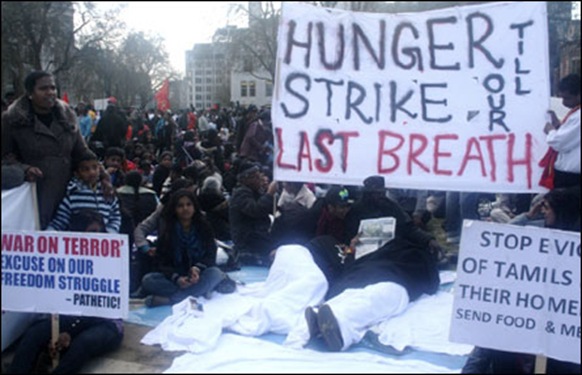 Two British Tamils, 21-year-old Sivatharsan Sivakumaravel and 28-year-old Parameswarn Subramaniyan, who are on a hunger strike in the Parliament Square since 10:00 p.m. Monday, have refused to consume any food or water until there is a ceasefire in Sri Lanka. The hunger strikers have also demanded that food and medical aid should be allowed to reach the civilians immediately with international monitoring committees and to allow "Mercy Mission," the diaspora organised ship carrying humanitarian supplies.

The main demand of the hunger strike is "immediate and permanent Ceasefire."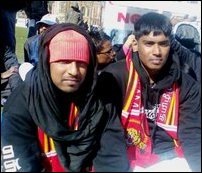 Mr. Parameswaran, in an interview with the Times, UK, said that in the recent attack on the safety zone by the Sri Lankan government five of his family members were killed.
Mr. Sivatharsan, while talking to media said that they demanded the UN to conduct a referendum on Tamil sovereignty if the International Community needed to prove the will of the Eezham Tamils. The UN-led referendum should be conducted in a free and fair environment without military occupation and that the members of the Tamil diaspora, forced to leave the island due to the military aggression by the Sri Lankan state, should also take part in the referendum.
Sivatharsan said his grandmother and cousins are in the area under attack by the Sri Lankan military and that he has not been able to contact them. He stated that: "I don't know what has happened to them.
On Thursday, the British Police threatened to forcibly remove the hunger strikers from Parliament Square and transport them to hospital for treatment. However the two Tamil youth signed legal documents, refusing any treatment, and so even if forcibly removed medical personnel would not be able to treat them, legal sources attending to the fast said.
The doctors monitoring the strike stated that after 72 hours without food or any fluid the function of their bodies has begun to deteriorate and that there is a dangerous possibility of permanent damage to organs.
During the first 24 hours the protesters occupied and blocked the Westminster Bridge.
The demands put forward by the two hunger strikers follow:
Immediate and permanent ceasefire
Food and medical aid should be allowed to reach the civilians immediately with international monitoring committees and allow "Mercy Mission to Vanni"
UN Secretary General Ban Ki-moon and UK Prime Minister, Gordon Brown, arrange to meet our representatives.
Liberation Tigers of Tamil Eelam are our sole representatives and UK government should lift the ban on LTTE.
UN should call for an immediate referendum to the Tamils regarding whether they want separate nation or to remain as Sri Lanka.
(For updates you can share with your friends, follow TNN on Facebook, Twitter and Google+)