Tamil hunger strikers finally accept fluids at Parliament protest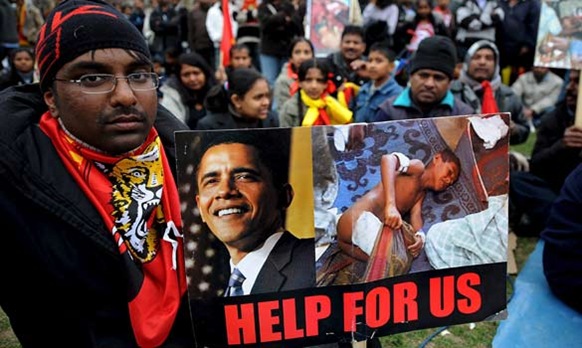 Tamil hunger strikers whose health had been declining while protests continue in Parliament Square have begun taking fluids this evening.
Fears had been mounting over the health of the pair, who were refusing food and water as their fellow demonstrators demanded a ceasefire in Sri Lanka.
The protest, which is the largest to take place opposite the Houses of Parliament since demonstrations there were effectively banned in 2005, showed no signs of abating today as hundreds of people gathered for the fifth day of action.
Meanwhile, thousands of people are expected to join a march through Central London tomorrow in support of the Tamils.
Sivatharsan Sivakumaravel, 21, and Parameswaran Subramaniyan, 28, had vowed to go without food or water until the international community intervened in the Sri Lankan army's campaign against the Liberation Tigers of Tamil Eelam (LTTE). Paramedics said that the pair were severely dehydrated and at risk of renal failure and hypothermia.
After pressure from fellow protesters, the two agreed tonight to begin drinking.
Mr Subramaniyan, a student who arrived in Britain three weeks ago, told The Times on Wednesday, 36 hours after beginning his strike, that five members of his family have been killed in the last few days as the Sri Lankan army closes in on the rebel fighters' stronghold. "I heard yesterday that my mother, my sisters, my brother and his son are dead," he said. "One of my sisters and my brother were members of the LTTE. They are not terrorists – they are freedom fighters. I want answers for my family's death, otherwise I will not leave here."
Mr Sivakumaravel, a British citizen who came from Sri Lanka five years ago, claimed that the Sri Lankan army was responsible for killing children in an enclave on the north-eastern coast of the island, where the LTTE are pinned down. "They say our people are terrorists. Do you think the kids living there are terrorists?" The Sri Lankan military have said that LTTE troops are deliberately preventing civilians from leaving the area, effectively using them as human shields. Protesters passionately denied the claims.
Another protester, 23-year-old Jey Perayeravan, a database administrator for a British telephone company, broke down in tears as he described how his father, who is in the enclave, told him that he feared for his life. "I talked to my dad last week. He told me that they have been hiding under bunkers for three months. They don't have any food or any medicine. When he called me he said: 'We have survived so far but we don't know what is happening in the future.'" Wiping tears from his eyes with a LTTE scarf, he said: "All we ask is for the government to stop the genocide. We just want to save our people."
Demonstrators believe that the British Government has a responsibility to save its former colony because it did nothing to protect the rights of Tamils when the country became independent in 1948. The island, formerly known as Ceylon, has been ruled by the Sinhalese majority since independence.
Police gathered in 15 vans around the square today, but officers told The Times that they were reluctant to break up the protest because it was being conducted in a good-natured way and included women and children. Chief Inspector Chris Allmey said earlier in the week that he had the manpower to move the protesters "within minutes" but preferred to let the protest run its course.
Lalithasorubiny Kandasamy, 24, an accountant, said that she had been a victim of police brutality on Tuesday night. "They were saying: 'You have to go home now.' Suddenly they were kicking us with their boots. A policewoman and a policeman picked me up and dropped me on the pavement. The man stuck my face against the bin. He smashed my face against the stony pavement. I had to go to hospital." She said that she rejoined the protest today because her injuries were "nothing compared to what is happening back home".
(For updates you can share with your friends, follow TNN on Facebook, Twitter and Google+)