Thousands to march in support of Tamils – ITN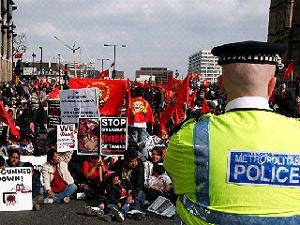 Thousands of people are set to gather in London this weekend for a major protest march against the Sri Lankan government's offensive against Tamil Tiger rebels and alleged human rights abuses.
Hundreds of Tamil demonstrators currently occupying London's Parliament Square will see their numbers swell on Saturday for a renewed push, according to supporters.
The protesters say the lives of thousands of civilians are in danger and want the UK Government to take action.
The Sri Lankan government has rejected international calls for a ceasefire, claiming it is on the verge of defeating the Tamil Tigers, a rebel group which is fighting for an independent homeland.
Former aid worker Tim Martin, director of the Act Now campaign group aimed at stopping the war in Sri Lanka, said around 100 civilians are dying each day.
Sources have told him that poisonous gases are being used in combat, with victims suffering vomiting, blisters, breathing problems and extreme pain.
"This is why everyone is protesting," he said.
"The protesters are really upset at what's happening in Sri Lanka, they are really upset that the government is using illegal banned weapons and they will protest there until a ceasefire is agreed."
Two young Tamil men, Sivatharsan Sivakumaravel, 21, and Parameswarn Subramaniyan, 28, have
embarked on a hunger strike as part of the ongoing protest in London.
They have not consumed anything since 10pm on Monday, according to Mr Martin, and will not until there is a ceasefire in Sri Lanka and humanitarian aid is allowed to the civilians in the designated "safe zone" in the north of the country.
(For updates you can share with your friends, follow TNN on Facebook, Twitter and Google+)