No politics: Rajini, He will: Soundarya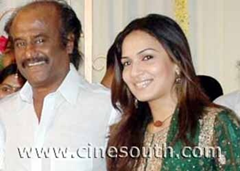 Will he or won't he enter politics is an ongoing debate on Rajini's inclinations and the confusion continues. Till now, only Rajini has been giving statements about politics, but now his daughter Soundarya has also stepped in.
Soundarya has turned producer with ' Goa ' directed by Venkat Prabhu. She recently visited the unit at location Theni. A reporter got whiff of the news and landed there.
After speaking about the director and the film, he flung a question on politics at her.
Will you come to politics? If you thought this would have shocked Soundarya, you are sadly mistaken!
"Everyday I follow what is happening in politics. I am aware of everything. I discuss a lot of politics with my dad. Both of us have many ideas. From graphics, I have come into film production. We'll definitely come to politics too. We want father to enter politics since he is always talking about doing good for the people and giving them what they want. With Lord Krishna's blessings, he should enter politics soon."
This is what Soundarya says but at the 'Asal' function, Rajini stuck to his old statements.
Like Chiranjeevi, will you also enter politics? "No… no politics. I've no desire to enter politics.
(For updates you can share with your friends, follow TNN on Facebook, Twitter and Google+)