Thousands on Tamil protest march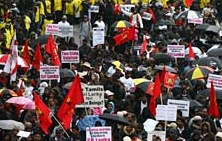 A hundred thousand protesters have marched through central London against Sri Lanka's offensive on the Tamil Tigers, according to police estimates.
The demonstration came as one Tamil protester agreed to suspend a hunger strike opposite the House of Commons.
Sivatharsan Sivakumaraval, 21, and Prarameswaran Subramaniam, 28, had said they were prepared to die unless the UK intervened in the war in Sri Lanka.
Mr Sivakumaraval has suspended his fast amid efforts to try to arrange talks.
The Metropolitan Police said 100,000 people had joined the march and three had been arrested for public order offences.
They marched from Embankment to Hyde Park, where the demonstration ended with a rally at Speaker's Corner.
The two hunger strikers – both students from Mitcham, south London – have not eaten since the early hours of Tuesday.
On Friday, after doctors warned of kidney failure, they agreed to take on fluids for the first time since their hunger strike began.
'Win freedom'
Mr Sivakumaraval said he would end his protest if he were given a signed pledge that he would be able to take part in talks on the plight of Tamils in Sri Lanka.
The 21-year-old said: "Our health is very bad. But I want to say to people to stay together, to help the people in Sri Lanka, and that together we will win our freedom.
"I am very pleased with the support we've had because people have come here from different religions and from all over the world."
He said he was following the example of Gandhi, adding: "Older brothers also do this in Sri Lanka so we are following them. They are an inspiration to us and that's why we're staying here.
"Everyone tries their own way but at the end of the day nothing happens so we need to choose this way."
His mother, Vanishri, 38, said she understood how her son felt and was proud of him, but also that she feared for his health.
Mr Sivakumaraval said: "I feel my homeland is even more important than my mum."
Meanwhile, Mr Subramaniam has agreed to start drinking liquids and glucose.
The protesters want Prime Minister Gordon Brown and UN secretary general Ban Ki-moon to agree to meet their representatives.
Earlier, Liberal Democrat MP Simon Hughes said he would try to arrange for a delegation of protesters to visit the UN, Washington and Brussels with Des Browne, the government's special envoy to Sri Lanka, for talks.
Mr Hughes said Mr Sivakumaraval had agreed to accept some food on the condition that he could join Des Browne at the talks.
Doctors had said he was well enough to attend a rally at Hyde Park Corner after the march, Mr Hughes added.
The rebel Tamil Tigers started fighting in the 1970s for a separate state for Tamils in Sri Lanka's north and east. They argue they have been discriminated against by successive Sinhalese-dominated governments.
They are a banned terrorist group in many countries, including the UK.
Thousands of Sri Lankans living in the UK have taken part in the rally that began on Monday afternoon in London's Parliament Square.
They say thousands of civilians in northern Sri Lanka are in danger as its government continues an offensive to "wipe out" the Tamil Tigers.
They are calling for the UK government to act to help end the war and insist they will remain until a ceasefire is called and food and medical aid is allowed to reach civilians.
Mr Browne said that he supported a ceasefire and the British government remained concerned about the plight of civilians caught up in the conflict.
(For updates you can share with your friends, follow TNN on Facebook, Twitter and Google+)