Sri Lankan military begins two-day ceasefire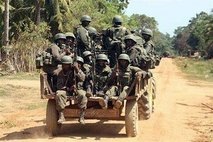 Sri Lankan security forces began a two-day ceasefire on Monday, as the government called for the Tamil Tiger rebels to allow trapped civilians to flee the conflict zone.
The United Nations estimates that 100,000 people are packed into the small strip of coastline in the northeast that is the last remaining territory held by the rebel fighters, who have been pushed close to defeat.
Troops halted their offensive on the orders of President Mahinda Rajapakse to mark the traditional Sinhala and Tamil New Year, military spokesman Udaya Nanayakkara said.
"We are not conducting any offensive operations," Nanayakkara said. "We have not fired and we have not received any fire so far from the other side."
Tamil homeland He said that frontline troops had not reported any civilians leaving the rebel-held area since the ceasefire began.
The Tigers, who are accused of holding the civilians hostage, have suffered months of battlefield setbacks that could finally end their campaign for an independent Tamil homeland after 37 years of violence.
Rajapakse ordered the unilateral ceasefire after intense international pressure, including repeated calls from the United Nations and the US.
UN Secretary General Ban Ki-moon welcomed the halt in fighting but said it fell short of his expectations.
"This is less than the full humanitarian pause of several days I had pressed for, but is nevertheless a useful first step and an opportunity to move towards the peaceful and orderly end to the fighting now so badly needed," he said.
UN officials who visited some of the camps for people escaping the fighting earlier this month warned that thousands of non-combatants could get killed or wounded as the military moves to finish off the Tiger rebels.
Some 2,800 civilians were killed during a two-month period earlier this year, according to UN figures which are discounted by Sri Lankan authorities.
The rebels endured major losses last week when at least 550 were killed in four days of fighting to defend a village which eventually fell to government forces, officials said.
Tamils around the world have stepped up protests demanding further international pressure on Colombo for a permanent end to the hostilities.
Hundreds of Tamil protesters staged a rally outside Australian Prime Minister Kevin Rudd's official Sydney residence on Monday, after some 100,000 demonstrators marched through central London.
In Norway, a group of Tamils stormed the Sri Lankan embassy in Oslo on Sunday, smashing windows and furniture inside the building.
Sri Lanka's foreign secretary Palitha Kohona condemned Oslo's failure to protect the building and alerted other Sri Lankan embassies to increase their security.
(For updates you can share with your friends, follow TNN on Facebook, Twitter and Google+)