Tamils protest outside Australian PM's residence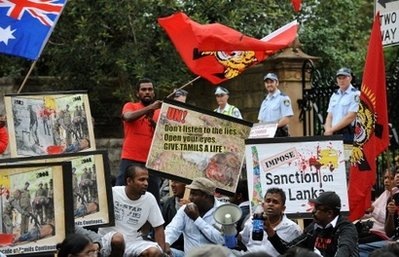 Hundreds of Tamil protesters staged a rally outside Australian Prime Minister Kevin Rudd's official Sydney residence Monday calling for a lasting ceasefire in Sri Lanka.
About 300 demonstrators gathered outside Kirribilli House and nearby Admiralty House, the governor-general's residence, to urge the Australian government to call for Colombo to end its offensive against Tamil Tiger rebels.
The protesters, including three men who declared on Sunday that they were going on a hunger strike until Canberra acts, gathered overnight and chanted "Australia, save the Tamils" and "Stop genocide".
Protester Geetha Mano, 24, said the rally would continue until there was a response from Rudd or Foreign Affairs Minister Stephen Smith. Rudd was in Canberra, not at the Sydney residence.
"We ask the international community and the Australian government to urge, to push the Sri Lankan government to call for a ceasefire and to meet these demands so that these people get the right to live freely and with freedom of choice," Mano told national news agency Australian Associated Press.
The rally was monitored by about a dozen police but remained peaceful.
It comes after similar protests around the world, including a march involving some 100,000 demonstrators through central London on Saturday.
In Norway, a group of Tamil protesters stormed the Sri Lankan embassy in Oslo on Sunday, smashing windows and furniture inside the building.
Sri Lanka's government says it is in the final stages of defeating the separatist Liberation Tigers of Tamil Eelam, who launched a campaign in 1972 to create a separate Tamil homeland on the Indian Ocean island.
Colombo on Sunday ordered a two-day ceasefire to give civilians a chance to escape the fighting.
(For updates you can share with your friends, follow TNN on Facebook, Twitter and Google+)