Sri Lanka ceasefire a deception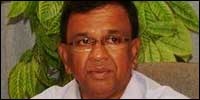 Tamil Tiger rebels have said that a two-day ceasefire called by Sri Lanka's government is an attempt to deceive the international community.
The rebels called for a permanent internationally supervised truce as the ceasefire entered its second day.
The government announced the halt in fighting to allow civilians trapped in the conflict zone to leave.
The rebels' statement said they were ready for open political talks to end the decades of bloodshed.
'Ready to comply'
The Tigers said the two-day truce was "merely an act of hoodwinking".
They said there should be an internationally supervised truce and that such a ceasefire should also contain a base for political solutions.
"The LTTE [Liberation Tigers of Tamil Eelam] has for long been requesting a permanent ceasefire encompassing sensible military and political essence. This, the LTTE still reiterates," the statement said.
"The LTTE desires that it should also create a conducive climate for a permanent political resolution to the national question of the Tamils in a peaceful way. The LTTE is ready to comply without any conditions to a ceasefire as described above."
The rebels accused the army of continuing to shell civilian areas on the first day of the temporary ceasefire. The army has denied the accusation.
Sri Lankan military officials said that the frontlines in the north-east had remained largely quiet except for some minor clashes.
Aid agencies say that tens of thousands of civilians have been trapped in a government-designated no-fire zone – though only 18 came out on Monday.
The government accuses the rebels of holding the civilians against their will. The Tamil Tigers say the civilians do not want to leave the safe zone because they fear the military.
Meanwhile, British Foreign Secretary David Miliband has urged Sri Lanka not to return to all-out fighting against the Tamil Tigers after the end of the truce period.
In a telephone call with his Sri Lankan counterpart, Rohitha Bogollagama, Mr Miliband said the ceasefire could be an important first step towards the end of conflict without further civilian casualties.
The foreign secretary asked the government of Sri Lanka to consider a longer pause in fighting to enable civilians to move out of the rebel-held areas.
In a statement, Mr Bogollagama said "a longer pause was not possible because the Tigers have so far failed to demonstrate any genuine goodwill on their part in allowing the civilians to have free movement".
The authorities were also concerned that the rebels would use the opportunity to consolidate in the ceasefire zone, the statement added.
(For updates you can share with your friends, follow TNN on Facebook, Twitter and Google+)