Isai Puyal shares composing with Japanese composer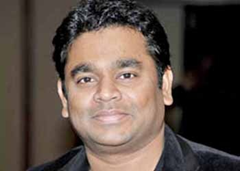 If anyone interfered in a person's work, it would normally make a person turn into an angry monkey but in the case of the Isai Puyal, his actions make one want to pinch his cheeks in wonder.
In a film for which he is composing music, Rehman shares his responsibilities with a Japanese composer.
Kamal and Asin pair in '19 Steps' that is to be made in Tamil, Hindi and English. Asin is paired with Japanese actor Tadanobu Asano. Direction is by Bharath Bala and music by AR Rehman.
The film shows both Indian and Japanese culture and lot of importance is given to music. Rehman is well versed with music for the Indian culture but he felt a Japanese composer would be more ideal to compose music for the Japanese culture part of the film.
Director Bharath Bala agreed with Rehman's idea and the two promptly flew off to Tokyo . Joe Hisaishi is popular in Japanese film circles and he has agreed to share music composition of '19 Steps.'
(For updates you can share with your friends, follow TNN on Facebook, Twitter and Google+)