Sri Lanka army 'resumes fighting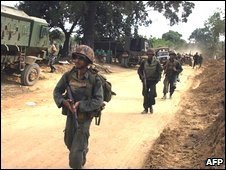 Pro-Tamil Tiger websites say Sri Lankan troops have resumed their offensive against the rebels at the end of a two-day ceasefire in the north-east.
But a military spokesman has denied the reports, saying soldiers were only observing rebel activities inside the safe zone set up to protect civilians.
The two-day ceasefire ended at midnight local time.
The government had announced the pause in fighting to allow civilians trapped in the conflict zone to leave.
It seems to have had little effect in enabling civilians to leave the war zone.
Strong denial
The pro-rebel websites said the military had resumed its offensive using mortars and gunfire near a no-fire zone in the Mullaitivu district.
They said the Tamil Tigers were fiercely resisting the army's attempt to capture a rebel defence line.
But the Sri Lankan military spokesman has strongly denied the claim.
"We have not started any offensive. We are only keeping a close watch on rebel movements," Brigadier Udaya Nanayakkara told the BBC.
The government announced a two-day unilateral ceasefire from Monday to coincide with the Sri Lankan New Year and asked civilians trapped inside the war zone to move out, but only a few hundred responded to the call.
The UN says that more than 100,000 civilians have been trapped in the no-fire zone and has called on the rebels to allow the civilians to leave the area.
But the rebels say the civilians do not want to leave because they fear the military.
Meanwhile, the Sri Lankan government has rejected a fresh appeal by Tamil Tiger rebels for a permanent ceasefire with security forces.
"They did not let any civilians leave the war zone during the two-day truce. In fact, they were seen strengthening their defence lines using civilian labour in the period," Sri Lankan foreign secretary Dr Palitha Kohona told the BBC.
There has been no reaction from the rebels on the latest charges by the government.
The Sri Lankan military says troops have surrounded the safe zone on all three sides and are poised to enter the area in pursuit of the rebels and to rescue the civilians.
(For updates you can share with your friends, follow TNN on Facebook, Twitter and Google+)