Blood is boiling: Sathyaraj gets emotional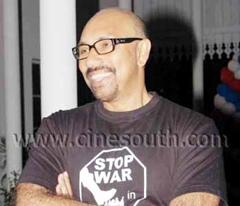 For the past few days, Sathyaraj has been sporting a t-shirt with the wordings 'Stop War in Srilanka.'
Though Sathyaraj expresses his support through slogans on his t-shirt, he remains silent on the Eelam Tamils issue. He recently gave an interview to Ananda Vikatan. Here are some excerpts.
"This is not peace, nor is it intelligence on my part. It's my helplessness. I have to live according to dictates of the law and my chosen career field. Even thinking about it, makes me feel ashamed. Hearing the cries of torture from all over the world, and thinking about the misdeeds around us, I am overcome by shame every time I think about it. Many think it's the problem of our neighbouring country, not ours. Can't we still try to find a solution to our neighboring country's problem?
In his book 'Boogolame Balipeetamaai,' Pulamaipithan has described how its very geographical location has been the cause of Srilanka's ethnic destruction. When a race, extension of our own race is being destroyed, the brethren should voice support to prevent it. It's so unfair to ignore the call for help and go on our own way. On my part, I have been expressing my support through slogans and through protests by my friends. I don't know what a single individual can do beyond this. It is so shameful and distressing.
Among Tamilnadu politicians, there are those who have genuine feelings and those who fake it. Whoever it may be, the person is forced by elections to hold meetings. Just like I'm curbed by my profession, so too are they. To put one's feelings into motion, one needs to have post and power, for which the fight is on. By the time all this is attained, no one knows what all atrocities will continue to be perpetrated. I'm not pointing fingers at anybody. I'm just telling what's in my heart.
In my predicament, I cannot speak openly about many things, but one thing is for sure. All freedom movements around the world eventually end up victorious. But in the process, to destroy hundreds of poor people is something that cannot be condoned. Somehow or other, the 3 lakhs of people who are quaking in fear at various places, have to be rescued.
(For updates you can share with your friends, follow TNN on Facebook, Twitter and Google+)