Nayantara captive in temple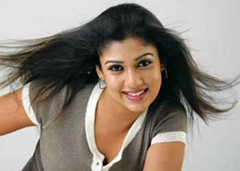 Nayanatara went to pray but did not conform to temple rules, and so ended up getting 'archana' from the devotees.
Nayantara is acting opposite Dilip in 'Bodyguard' directed by Siddiq. The shooting took place near Otrapalam in Kerala. In between shooting, she went to the Maniseri Killikavu temple in her car. Women are not allowed to eneter the temple wearing churidar-kurta and since Nayantara went like that, there was a flurry among the devotees. The sanctum was closed but there being a koothu performance, the temple door was open.
When Nayantara tried to enter the temple premises, the temple authorities tried to stop her. "You can't enter the temple in churidar," they said and an angry Naya ntara asked, "Who are you to tell me that?" and went in. The devotees who heard that surrounded Nayantara and told her wearing churidar and entering the temple is not allowed and she must apologise to the temple authorities. Nayantaar refused to do so and the devotees said they would not allow her to leave till she apologized. She called the film unit from her mobile phone. They arrived and held talks with the temple executives.
But nothing came of it and after some time, the unit urged Nayantara to apologise to the temple executives and she had to do that. The devotees let her be after that. All this took about an hour or so.
Nayantara spoke about the incident. "I went to the temple because it was Vishu. There were some inebriated people outside the temple.
(For updates you can share with your friends, follow TNN on Facebook, Twitter and Google+)